Enjoy Tasty And
Easy Salmon
Salmon is a great, healthy and easy-to-cook fish and is in season now. Here are three mouth-watering salmon recipes to give you some inspiration for a delicious meal.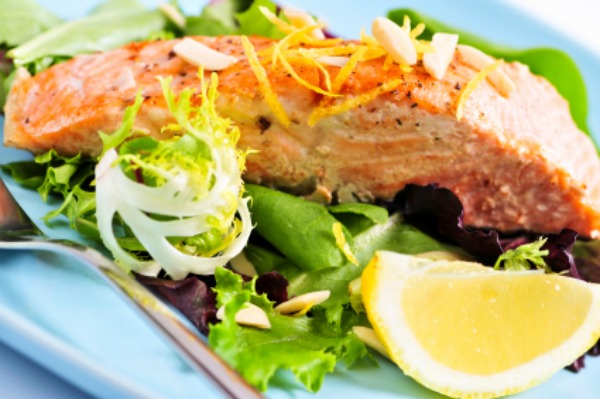 Simple salmon salad
Serving size 4
Ingredients:
1 tablespoon garlic powder
1 tablespoon dried basil
1/2 teaspoon salt
4 salmon fillets
30 grams butter
Vinaigrette dressing
Large bag mixed salad
4 lemon wedges
Directions:
Stir together the garlic powder, basil and salt in a small bowl then rub in equal amounts onto the salmon fillets.
Melt the butter in a frying pan over a medium heat and cook the salmon until browned – about five minutes per side.
Place some salad on each plate and drizzle with vinaigrette dressing.
Place a salmon fillet on top of the salad and a lemon wedge on top of the salmon.
Serve with brown bread.
Teriyaki salmon
Serving size 2
Ingredients:
2 tablespoons olive oil
1 piece fresh ginger, finely chopped
1 fat garlic clove, finely chopped
1 small chilli pepper, finely chopped
1 lime, zest and juice
4–5 tablespoon dark soy sauce
2 tablespoon maple syrup
2 salmon fillets
1 sheet egg noodles
1 tablespoon sesame oil
Salt and freshly ground pepper
Bunch coriander, chopped
Extra lime juice
Directions:
For the teriyaki sauce, heat some olive oil in a pan and fry the ginger, garlic and chilli.
Add the zest and juice of the lime and pour in the soy sauce.
Add the maple syrup and cook for one minute or until reduced and sticky.
Meanwhile, pan-fry the two pieces of salmon for two minutes each side on a hot griddle. When the sauce is reduced add the salmon to the teriyaki sauce frying pan.
Cook and drain the noodles, adding the sesame oil, seasoning and coriander and a squeeze of lime.
Serve the salmon on a bed of noodles with more chopped coriander.
Smoked salmon risotto
Serving size 2
Ingredients:
1 onion finely, chopped
2 tablespoon olive oil
350 grams risotto rice
1 garlic clove, finely chopped
1½ litres boiling vegetable stock
170 grams smoked salmon, chopped
85 grams mascarpone
3 tablespoon flat-leaf parsley, chopped
1 grated lemon zest (and squeeze of juice)
black pepper, freshly ground
1 handful rocket
Directions:
Fry the onion in the oil for five minutes.
Add the rice and garlic, then cook for two minutes, stirring continuously. Pour in a third of the stock and set the timer for 20 minutes.
Simmer, stirring occasionally, until the stock has been absorbed, then add half the rest of the stock and carry on cooking, stirring a bit more frequently, until that has been absorbed.
Pour in the last of the stock, stir, then simmer until cooked and creamy.
Remove the pan from the heat and add 3/4 of the chopped salmon and all the mascarpone, parsley and lemon zest.
Grind in some black pepper, but no salt.
Taste and add a little lemon juice.
Serve topped with the rest of the salmon and some rocket.
More salmon recipes
Walnut crusted salmon
Grilled bourbon-soy salmon
Smoked salmon with thyme mayonnaise
More From SheKnows Explorer