Best Of British
When you think of British cuisine, fish and chips is always up there as one of our best loved traditional dishes. Although many of us hot foot it down to the chippy, it is actually a very simple recipe to make at home. Here's how to do it, complete with mushy peas!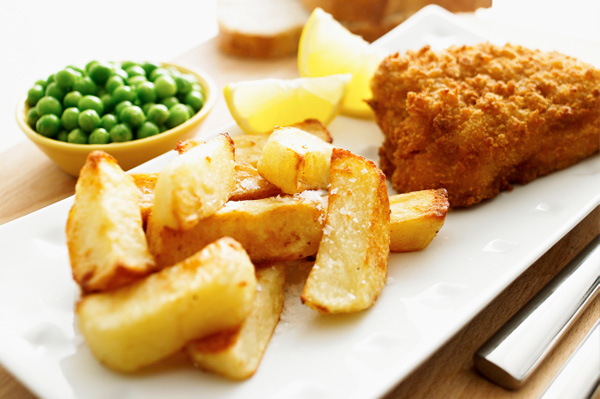 Fish, chips and mushy peas
Serving size
Ingredients:
For the fish and chips:
300 milliliters vegetable oil, for deep-frying
110 grams self-raising flour
pinch salt
1 free-range egg, beaten
pinch saffron strands
1 tablespoon vegetable oil
100 milliters cold sparkling water
2 tablespoons plain flour, seasoned with salt and freshly ground black pepper
1 x 150 grams cod fillet, skin removed
1 medium potato, peeled and cut into thick slices, then blanched, drained and dried
sea salt, for sprinkling
For the mushy peas:
300 grams frozen garden peas
1 tablespoon olive oil
2 tablespoons lemon juice
Directions:
Place the vegetable oil into a deep pan and heat until a small cube of bread sizzles and turns golden when dropped into it. Always be careful when cooking with oil.
Place the self-raising flour and the salt into a large bowl and add the egg, saffron and oil. Gradually add the sparkling water and whisk to make a batter the consistency of double cream. Cover the cod in the seasoned flour, shaking off the excess, then dip into the batter to coat all over.
Carefully place the fish into the hot oil and deep fry for 5 minutes, or until golden-brown and crisp. Remove from the oil with a slotted spoon and drain on kitchen paper. Set aside and keep warm.
For the chips place the potato chips into the hot oil and deep fry for five minutes or until golden-brown and crisp.
While the chips are in the oven, cook the peas in boiling water in a pan for 4 mins. Drain, then tip into the pan and lightly crush with the back of a fork. Mix in the oil, lemon juice and freshly grated pepper.
Remove chips, season well with salt and freshly ground black pepper and spoon into a serving dish.
To serve, place the chips onto a serving plate, top with the fish and serve with a dollop of ketchup.
More fish recipes
Impressive lemon sole recipes
Prawn cocktail with a twist
3 Scrumptous sardine recipes
More From SheKnows Explorer