Special Diet Advice
With more and more of us adopting a gluten-free diet for our health and more celiacs being diagnosed than ever before, many of us are avoiding certain ingredients and cooking using special recipes. To help you save time in the kitchen and make life easier, here are ten tips for a gluten-free kitchen.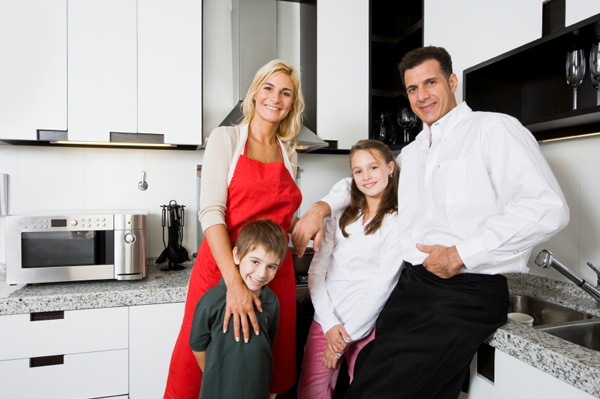 Teach your family about being gluten free
The most important part of living a gluten-free lifestyle is to educate your family about your condition (if you have one) and explain your dietary requirements to them. This way they will learn what can and can't be stored in certain places, which ingredients should be kept away from others and what they cannot include in meals if they are cooking for the family. They also need to realise the importance of kitchen organisation to prevent cross contamination.
Keep gluten free foods away from normal foods
If you are storing ingredients such as gluten-free flour, biscuits and cereals, keep them well away from any foods which are standard gluten-containing products. You should have a special 'gluten-free' cupboard, pantry or shelf in the kitchen where the gluten-free foods are kept and other foods are kept away. All your gluten-free utensils should be kept here as well.
Label everything well
If you are storing foods in plastic containers or in storage which isn't the original box, make sure you label everything correctly and clearly. Gluten-free foods look exactly the same as standard food and so could easily be mistaken for each other. Tupperware boxes and other storage devices containing food should be labelled clearly and kept in their specific sections of the kitchen. You should also keep certain storage containers for specific foods and never swap and change to avoid cross contamination.
Have two toasters
Everyone knows that toasters, however well you keep them clean, will always have a build up of crumbs and debris from the toast. This makes it very unhealthy for a celiac to use the family toaster and so investing in their own, to be used with only gluten-free products, is a good idea.
Have separate kitchen appliances and condiments
This doesn't apply to every knife, fork and spoon, however it is wise to have separate kitchen utensils in some cases. Breadboards and flour sifters should be kept separate as they deal directly with wheat-based products. Condiments such as jam, marmalade and peanut butter must also be kept separate, even though they may be gluten-free because of the chance of gluten-containing bread crumbs being present. Make sure gluten-free snacks are in reach for children. For children who have a gluten-free diet, it is very important to make sure their food and snacks are in reach and standard food is out of reach. They may not realise yet how important it is to stay away from gluten-containing food so it is your job to make sure they don't have access to standard food but are able to get hold of gluten-free food.
More on special diets
Gluten explained: How it can affect you
Why you should avoid grains
How to make gluten-free goodies