Healthy TV Food
Chances are this year's Summer Games could be a rare chance to get the whole family together. The kids are off school, dad has taken a holiday and the grandparents have come round to visit. Because it is a special time for the family and country, here are some healthy(ish!) and delicious recipes for TV nibbles which the kids can help make and which are perfect to munch while watching the London 2012 games. It's TV food, the healthy way.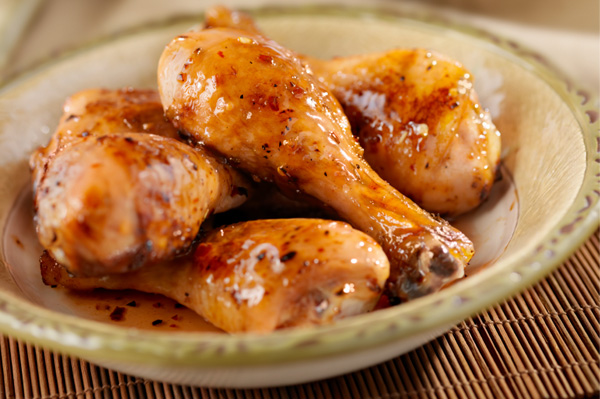 Chilli drumsticks
Serving size 6

Ingredients:
For the marinade:
1 tablespoon groundnut oil
3 cloves garlic, chopped
2 tablespoons grated fresh root ginger
1 tablespoon Shaoxing rice wine or dry sherry
2 tablespoons light soy sauce
2 teaspoons five-spice powder
2 tablespoons honey
For the chicken:
1 kilogram chicken drumsticks, skin on
Directions:
Place all of the marinade ingredients into a large bowl and stir to combine.
Add the chicken and cover the bowl with cling film, then place in the fridge for at least 15-20 minutes, ideally overnight.
Preheat the oven to 180C/160C Fan/Gas 4.
Place the chicken drumsticks onto a roasting tray and roast for 30 minutes, or until the skin is golden and the chicken is cooked through. (To check, pierce the drumstick at its thickest part, next to the bone. The juices should run clear.) 
Prawn, chorizo and tomato kebabs
Serving size 12
Ingredients:
6 cherry tomatoes, halved
2 garlic cloves, thinly sliced
a couple of sprigs thyme, broken into small pieces
3 tablespoons olive oil
12 raw tiger prawns, peeled and head removed
12 slices chorizo from a whole sausage
12 basil leaves, cut in half
Directions:
Heat the oven to 180C/160C Fan/Gas 4.
Put the tomatoes cut-side up on a baking sheet, top each half with a thin slice of garlic, a piece of thyme, a drizzle of olive oil and a sprinkle of salt. Cook for 30 minutes.
Grill the chorizo for 10 minutes and keep warm.
Fry the prawns in a little oil for seven minutes, turning occasionally, and keep warm.
When the tomatoes are done, on to a kebab skewer push a prawn, a piece of basil, a piece of chorizo, some more basil and a tomato half.
Salmon and lemon fishcakes
Serving size 20
Ingredients:
2 large baking potatoes
2 tablespoons olive oil
1/2 lemon, grated zest and juice
1 egg yolk
140 grams smoked salmon trimmings, plus extra to garnish
1 tablespoon chopped parsley, plus extra to garnish
 2 tablespoons flour mixed with 1 tablespoon coarsely ground pepper
a little oil, for frying
Directions:
Microwave the potatoes on high for 10 minutes until tender.
Leave to cool for 5 minutes, scoop the flesh into a bowl, then mash and leave to cool.
Season the potato mash with olive oil, lemon zest and juice to taste, then mix in the egg yolk, salmon trimmings and parsley.
Shape into small rounds 3 centimetres wide and 1 centimetre deep.
Chill for 15 minutes.
Dust each fishcake with the peppered flour, then fry over a low heat in a little oil for 2-3 minutes on each side.
Drain on kitchen paper and serve garnished with extra salmon and parsley.
Family recipes
Chilli beef with chocolate
Tasty banana bread
2 British Sunday lunch recipes