Cheap and healthy picnic food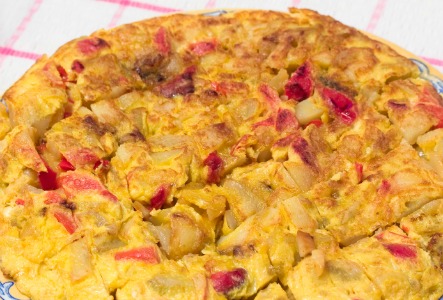 If you are lucky enough to be going to the Summer Games this year you need to start thinking about what you will eat while you are there. Of course there will be official refreshment stands but for something cheap and healthy, a picnic is perfect.
Picnic ideas for
London 2012
Here are some great dishes the whole family can enjoy without having to queue for hours. Be sure to check the venue's food policy beforehand as some may not allow food to be brought on to the premises.
Spanish Omelette
Serving size 4
Ingredients:
4 tablespoons olive oil
50 grams butter
1 large onion, sliced
2 cloves garlic, crushed
250 grams new potatoes, diced with the skin left on
1 red pepper, seeds removed and sliced
150 grams chorizo sausages, diced
1 pinch nutmeg, grated
1/2 tablespoon paprika
6 large eggs
1 tablespoon flat leaf parsley
Directions:
Put the oil and butter in a large frying pan and warm over a low heat until the butter is melted. Add the onions and garlic. Fry gently until the onions have softened.
Add the diced potatoes and red pepper, stirring occasionally until the potato is soft — about 10 minutes.
Add the chorizo sausage to the mixture and fry for a further 2-3 minutes before sprinkling in the nutmeg and paprika.
Beat the eggs with a fork, season with salt and pepper according to taste, and pour into the pan. Tip the pan around until the egg is evenly distributed and the base has begun to set.
Once the base is firm and the surface is set, take the pan off the heat, turn the omelette out and leave to cool.
Slice the cooled omelette into wedge-shaped quarters, garnish with parsley and keep refrigerated.
Pasta salad
Serving size 6
Ingredients:
350 grams penne, rigatoni or other similar-shaped pasta
8-10 large sprigs of mint, leaves removed and chopped or torn
150 grams frozen peas
200 grams feta cheese, crumbled
50 grams of rocket leaves
1 lemon, grated zest and juice
1 tablespoon flaked sea salt
2 tablespoons freshly ground black pepper
1-2 tablespoons extra virgin olive oil
20-30 marinated green olives, pitted
Directions:
Add the pasta to boiling salted water with 2 sprigs of the mint.
Cook the pasta for the time given on the packet. Add the peas 3 minutes before the end of the cooking time.
Once the pasta and peas are cooked, drain them in a colander and cool them under running water. Discard the mint sprigs.
Transfer the cooled pasta/pea mixture to a large bowl and add the feta cheese, rocket leaves and remaining mint, together with the lemon zest, half the lemon juice, the salt and pepper and a tablespoon of olive oil.
Either roughly chop or smash the olives with a pestle and mortar and add them to the pasta. Toss well and add more lemon juice, seasoning and olive oil, according to taste.
Blueberry muffins
Serving size 12
Ingredients:
110 grams plain flour
110 grams butter
65 grams caster sugar
2 eggs
1-1/2 tablespoons baking powder
125 grams blueberries, fresh or frozen
1 pinch nutmeg, grated
Directions:
Cream the butter and sugar together then slowly add the eggs and mix for 3 minutes.
Add the flour, baking powder and nutmeg and stir to combine. Once mixed, refrigerate the muffin dough for at least an hour, preferably overnight.
Place a spoonful of the dough into 12 muffin cases, filling each to just over half way. Stud each muffin with about eight blueberries. If using frozen blueberries, remember to defrost them first.
Bake in an oven set at 200 degrees C,180 degrees Fan or Gas Mark 6 for 20 minutes, or until golden on top.
MORE PICNIC RECIPES
Fun picnic ideas for family days out
Pack the perfect picnic basket
How to make a picnic-worthy potato salad without the mayonnaise