Yummy!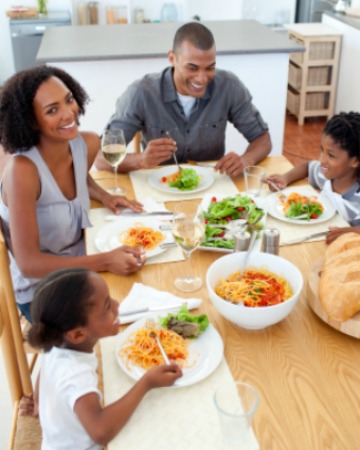 Tasty lunch ideas
With six weeks of having the kids at home, many mums will be doing something they are not used to during weekdays — making their kids lunch!
Although a very simple thing, it can be a nightmare to make a range of healthy meals and keep them full of variety so the kids don't get bored.
To give you some inspiration, here are five lunch ideas to get you started. Some are easy enough for the older kids to put together themselves.
Pasta
Pasta is so easy and as long as you use wholemeal, it's pretty healthy as well. Simply boil a large amount on the hob and allow the kids to add their own toppings such as tuna, cheese, bacon and chicken. It keeps them happy as they have been allowed to make their own decisions and they don't have to eat the same as everyone else. And it's great for mums as all you need to do is boil the pasta and point the kids in the direction of the fridge.
Egg soldiers
One of the oldest but best meals kids can have, soft-boiled eggs are so healthy, offering nutrients, protein and iron. At around only 75 calories per egg, they are also very low in calories so you can even treat the little ones to two. Couple that with some good quality wholemeal toast and you have a very healthy and easy-to-prepare meal. Let the kids feel involved by watching them time the eggs and chop the toast into "soldiers" and enjoy a traditional, old school, but extremely delicious lunch.
Sandwiches
Sandwiches have got a bad rap recently for being unhealthy due to added salt, sugar, saturated fat and nutrition-light white bread. However, here we are talking about homemade sandwiches, not the calorie-laden shop-bought examples. As long as you select wholemeal bread and healthy fillings such as tomatoes, cucumber, fish and meat and don't add too many sauces, your kids have got a healthy and yummy meal right in front of them. Let them pick the fillings they want from your healthy selection and make the sandwiches themselves. They will love the responsibility of making their own lunch and it saves you a job.
Salads
Many kids groan when the word salad is mentioned because, let's face it, it's not the most exciting meal you can have. However, salads can be made more appetising for the kids than you may think and are very healthy if the right ingredients are chosen. Ditch the boring iceberg lettuce and take them to the supermarket to choose their own salad greens. Ask them what veg they would like, introduce them to foods they have probably never tasted, such as avocado, and allow them a treat such as barbecued or spicy chicken as their topping. They will love choosing the ingredients and will equally enjoy eating them when they get home.
Snacks
Kids are going to want to munch on things throughout the day so make sure healthy snacks are easily accessible at all times. Smoothies are great as they are full of nutritional goodness, as are vegetable sticks and dips such as hummus, sour cream and guacamole. Fruit such as bananas, berries and apples should also be available as they are easy for the kids to eat themselves — just watch out for pips or stones.
More kids recipes
5 Great breakfast ideas for kids
Fun picnic ideas for family days out
Family-focused Olympic recipes