Simple yet sensational recipes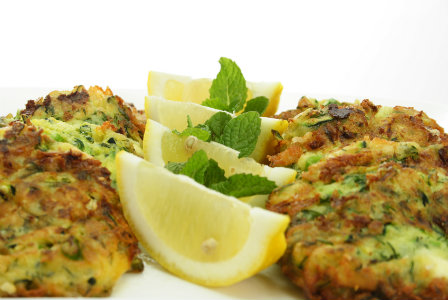 Courgettes are one of the easiest-to-cook vegetables but can sometimes seem bland and tasteless. Follow these simple recipes from food blogger Marika Chkheidze-Brett and you'll never feel uninspired cooking with courgettes again.
Stock up! Courgettes are in season
Get inspired by these wonderful courgette recipes.

Courgette fritters
Serving size 4
Ingredients:
4 medium courgettes
4 tablespoons plain flour
4 eggs
Directions:
Grate the courgettes with a coarse grater and squeeze out all the excess water.
Put the courgette gratings into a bowl and add the flour and eggs. Mix well.
Form into four fritters and shallow fry in a pan for around 3 minutes on each side.
This recipe can be varied by adding tinned sweetcorn, ricotta cheese, chopped mint or grated carrots to the batter before frying.

Roasted courgettes with garlic and mint
Serving size 4
Ingredients:
750 grams small courgettes
3 cloves garlic
1 teaspoon dried mint
3 tablespoons chopped fresh mint
salt and pepper to taste
1/4 cup olive oil
Directions:
Preheat the oven to 200 degrees C/Gas Mark 6.
Wash and slice the courgettes into thick rounds.
Using a food processor, whizz together the garlic, mint and a pinch of salt to make a smooth paste. Mix in the olive oil. Pour the dressing over the courgettes making sure each round is
well- coated.
Spread the coated courgettes in a single layer on the bottom of a roasting dish. Season well.
Bake for 40 minutes, turning once.
Food blogger Marika Chkheidze-Brett can be found blogging at A not so ordinary mum.
More recipes
Homemade kale crisps
Apple and pear tart recipe
Bacon-wrapped monkfish
More From SheKnows Explorer