A Drink For Warming
The Cockles
Cider is something the U.K. does very well and does not have to be the preserve of the summer months. 45 per cent of all apples grown here are used in cider making and the drink has seen a huge resurgence in popularity over the last few years.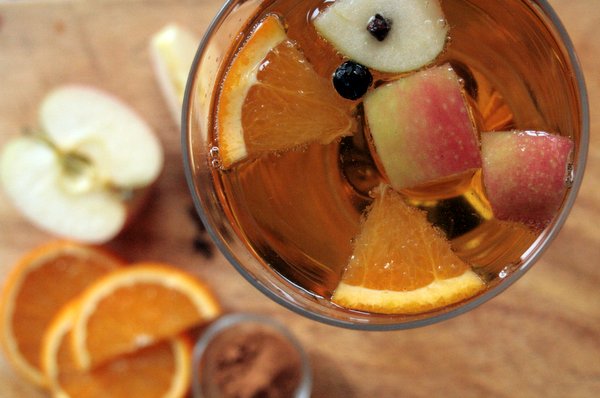 Some purists would probably argue that we should leave the fermented apple juice as it is but, as the winter nights draw in, this popular drink is begging to be mulled. Giving drinks other than wine this festive treatment is not a recent invention. Even Samuel Pepys' diary mentions a drink similar to mulled sherry.
There is something so nostalgic about mulled drinks. The smell of a good gluhwein reminds me of wandering around the Christkindlmarkts in Germany as a child with my parents. Now, as an adult, I always have a mug of mulled something while putting up the Christmas tree. In our slightly naff festive mugs, naturally.
Most mulled drinks add a spirit. In this recipe I use Cointreau, to give it an alcoholic citrus kick, but rum, gin or brandy would work equally well. Likewise there are many different spices that can be used including ginger, cardamom, allspice and nutmeg. I prefer to use cloves, cinnamon & juniper berries. When it comes to cinnamon you can either use a cinnamon stick or a teaspoon of ground cinnamon. The ground cinnamon will initially sit on top of the liquid but, once it has simmered for 5 minutes, the cinnamon will mix in. If you are using whole spices do not forget to fish them out before serving.
Mulled Cider
Serves 4
If you want to make this non-alcoholic, use apple juice instead of cider and leave out the Cointreau.
Ingredients:
1 litre of medium-dry cider
100 millilitres Cointreau
2 heaped tablespoons muscovado sugar
30 millilitres Bottlegreen ginger & lemongrass cordial
5 juniper berries
1 teaspoon ground cinnamon or cinnamon stick
5 cloves
1 apple, cored and cut into chunks
1 orange, peeled and sliced
Directions:
Place all the ingredients in a saucepan and leave for 10 minutes with the lid on. Do not turn the heat on yet. You want the spices to begin to infuse with the cider, but you don't want the alcohol to evaporate.
Gently heat the mulled cider and simmer with the lid on for 5 minutes.
Remove the spices from the pan and serve the mulled cider warm in mugs or glasses with the steeped fruits.
More winter food
More From SheKnows Explorer