Christmas Side Dishes
Forget Brussel sprouts boiled to within an inch of their life — these Christmas side dishes are full of colour and flavour and, most importantly, the vegetables still have some bite.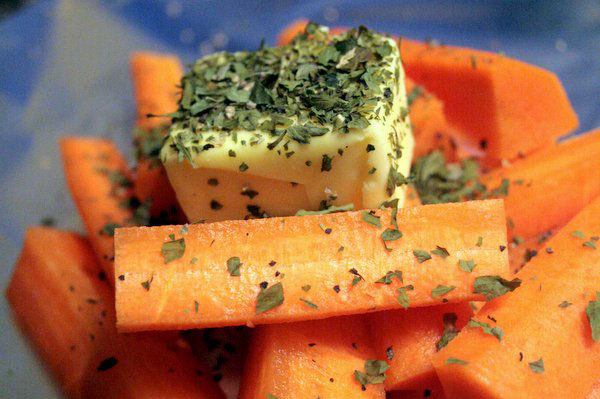 I am sure all of us have memories of eating mushy and bitter Brussel sprouts as a child. This happens when they have been over-boiled. To make sure you cook them properly, do not cut the traditional cross in the bottom and do not boil them. Either steam them in the microwave or on the hob. Alternatively roast them at 190 degrees C with a few cloves of garlic and some bacon lardons. This is one of the best ways to eat sprouts in my book.
Here are some other alternative ways to cook vegetables with a festive flavour, using the oven which is handy if your hob is already covered cooking sauces and other side dishes.
Sherry steamed carrots
Serving size 4 
Ingredients:
500 grams carrots
125 millilitres sherry
25 grams butter, cubed
1 tablespoon fresh parsley, chopped
salt & pepper
Directions:
Peel the carrots and cut them into sticks.
Place them in an ovenproof dish.
Pour the sherry over the carrots and top them with the cubed butter and parsley.
Cover the dish with foil and cook in the oven at 200 degrees C for 40 minutes or until the carrots are done.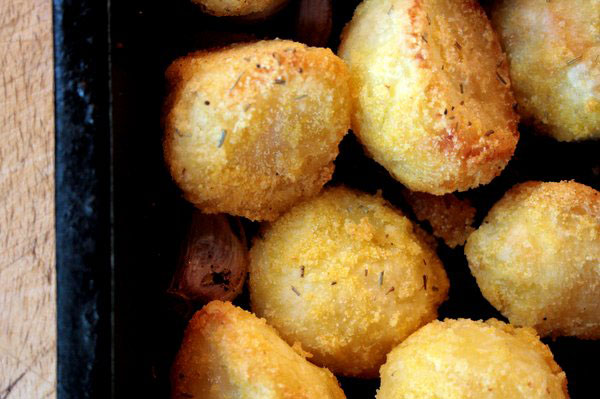 Roast potatoes are one of my favourite side dishes and I feel a roast dinner is incomplete without them. The key to great roast potatoes is the right potato and the right oil. Use a variety like Maris Piper or King Edward as these make the perfect roast potato that is crunchy on the outside and fluffy in the middle. When it comes to the fat, olive oil doesn't get hot enough. I prefer to use Farrington's Mellow Yellow rapeseed oil as it has a higher flash point. This oil also happens to make great Yorkshire puddings, the other roast dinner staple.
Rosemary and garlic roast potatoes
Serving size 4
Ingredients:
500 grams Maris Piper potatoes
2 tablespoons polenta or semolina
4 tablespoons rapeseed oil
1 tablespoon chopped rosemary
6 cloves garlic
Flaky sea salt
Directions:
Peel the potatoes and cut each one into halves or quarters, depending on size.
Boil the potato pieces in lightly salted water for 10 minutes then drain.
Put the potatoes back in the dry pan, sprinkle them with polenta or semolina and bash them around the pan a bit. These bashed edges will turn into delicious crunchy bits when roasted. If you don't have polenta or semolina, use seasoned flour.
Pour the rapeseed oil into a roasting pan and add the potatoes.
Add the garlic cloves (no need to peel them) and sprinkle with rosemary.
Roast at 220 degrees C for 45 minutes, turning regularly until the potatoes are crispy and golden.
Sprinkle with flaky sea salt before serving.
More Christmas food ideas
Christmas food shortcuts
Gingerbread mini bundts
The great British cheeseboard
More From SheKnows Explorer