Easy At-Home Fixes For A Cold
Earning money is hard enough at the best of times but having to spend a small fortune on prescription remedies can only make us feel even more depressed. Don't worry… Mother Nature is on hand to give us all the help we need. And the good news? We probably already have most of these ingredients in our kitchen cupboard!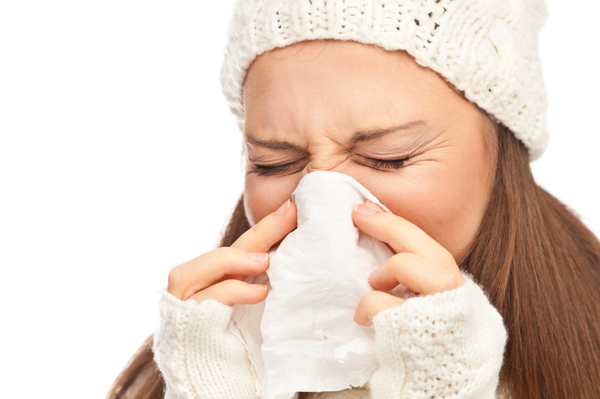 Winter looks pretty on a postcard but not so pretty when you have to go out. We all dread those cold mornings when we have to leave our warm duvets and brave the bitter cold to enter a school, office or environment where everyone is passing around a cold as though it is going out of fashion.
Drink to your health
Let's start the day off with something warm inside us to help fight that winter chill and any other looming colds which may be waiting for us. A hot mug of soothing ginger and cinnamon will kickstart the immune system, increase brain activity and boost metabolism in one shot. So why not boil the kettle and fill a mug with hot water, give it some zing with a good squeeze of tangy lemon juice and spice it up with some grated fresh ginger and cinnamon. Ahh… that smell – delicious, intoxicating and comforting. Savour the flavour as you hug your mug and inhale that sensual vapour of intoxicating spice… lovely!
Breathe it in
Struggling for air? This little tincture will give you the power to breath more easily. All you need is an equal measure of water and apple cider vinegar in a bowl. Place in a microwave and allow to boil. Remove the bowl, place a towel over your head and make a tent over the steaming liquid. Inhale deeply for five minutes and, hey presto, you can smell the toast burning!
A salty solution
When you rush over to the mirror to put apply your lippy in a bold attempt to paint on a smile, all hell breaks loose if you spot a dreaded cold sore. You know that this small gang of white blisters is soon going to explode into a mass the size of Scotland (OK, this may be a little melodramatic) but if you give them an inch they will take a mile so you need to lose the cold sore fast! Pop into the kitchen and reach for the salt. Place a small amount on the affected area and hold it in place for a couple of minutes. Yes it may sting like crazy but this is one of the fastest ways to make the cold sore heal.
Eat up
We know that the day isn't going to get much better weather-wise. No matter how much we long for blue skies and a smiling sun, it just isn't going to happen. However, during wintertime the body lacks vitamin C which lowers the immune system and makes us more susceptible to illness. By adding oily fish and eggs to our diet, we can still bring some summer sunshine into our lives, even when we are wading through the snow.
At lunchtime there is nothing that can beat a drop of chicken soup. This age-old recipe dates back centuries. Grannies across the globe swear by its anti-inflammatory and mucus-thinning properties. And who would ever doubt Granny?
As the afternoon wears on, your throat may start to feel tender when you swallow. Swop that cup of coffee for a mug of chamomile tea. Add a spoonful of honey and let it glide head down south and enjoy the soothing effects with appreciative silence.
Sleep away the sneezes
At the end of the day it's early to bed as plenty of rest will help to strengthen the immune system. Take a mug of hot water and lemon juice with you as a soother throughout the night. Now all you have to do is sleep soundly and let all of those natural ailments work as Mother Nature intended them to. Plus, you can rest soundly knowing that your bank balance is looking healthy too!
More natural cures
Natural cures for common ailments
Natural remedies that work!
Natural remedies for adult acne