Another Good Excuse To Eat Chocolate
What is it about chocolate? Something about this velvety confection sends us repeatedly rushing for a fix, especially in an emotional crisis or when our energy is low. So any suggestion that it's actually beneficial for our health has got to be good news! This time there are bona fide scientists involved — who are we to argue?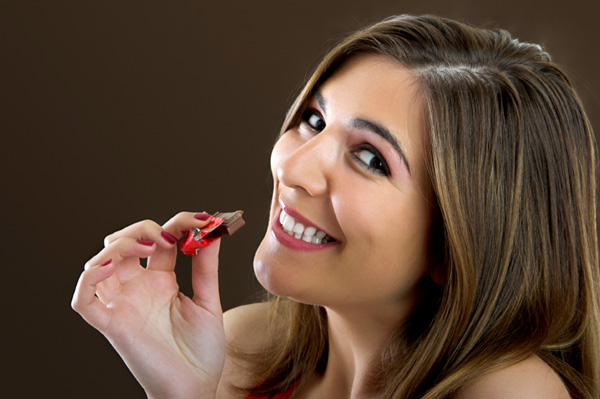 A golden ticket for your health
Well, it seems Willie Wonka had it right all along. In what looks like great news for chocolate lovers, this report published in The Cochrane Library in August 2012 suggests dark chocolate and cocoa can help reduce blood pressure. Apparently it's all about the flavonols. We've already been told the irresistible pull of chocolate may not be such a bad thing for the body – it increases the levels of "feel good" hormones like serotonin in your brain, and this apes the state of limerance. So maybe it's not for nothing that your boyfriend buys you chocolates. If you like the nervous, excited feeling of being freshly in love (or in lust!) – just keep on chomping the chocs!
Natural ways to lower blood pressure
Most of the obvious ways are about cutting things out – not smoking, drinking less alcohol, using less salt in the diet - so it's great when you can actually treat yourself to lower your blood pressure. However, if you are one of the freaky few on this planet who do not enjoy chocolate then try eating bananas more often. Seems they also contain an essential ingredient that can keep your blood pressure down. The potassium in bananas counteracts the action of sodium (contained in salt) which is known to increase blood pressure. Of course a well-balanced diet and a bit of exercise each day will go a long way toward helping your blood pressure and overall health as well.
Don't ignore the calories
Don't forget that chocolate has high levels of fat and sugar and you don't want the possible benefits to be outweighed by eating too much. As well as containing more flavonols, dark chocolate is less fattening as it doesn't contain milk, and maybe try to get into the habit of drinking cocoa made with water too. You need at least 60% good quality cocoa content to help lower blood pressure apparently, so if your fancy inclines towards milk chocolate, it may be worth trying to develop a taste for the stronger stuff. As these trials only lasted weeks, rather than years, it's hard to say what long term effects eating dark chocolate daily may have on the body. But let's face it, any news that involves feeling less guilty about eating chocolate has to be good news.
More on food and health
Top five liver boosting foods and supplements
5 reasons to grow your own food
Top seven superfoods