The accessory that loves you back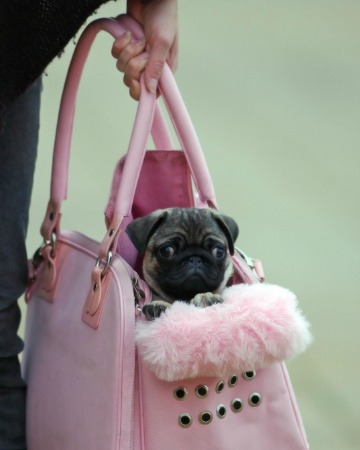 Pint-sized pups for your purse
They are man's best friend and, no matter what their size, dogs are wonderful companions. The unconditional love you receive, the licks and cuddles: all make the early starts and long walks worthwhile. But if it's a petite pooch you're after, there are some gorgeous pint-sized breeds to choose from. Herewith our top ten, in no particular order.
Pugs
Pugs have super short fur, a wrinkly, short snout and a curled tail – and despite their perma-concerned expression, they're fun-loving dogs. Sociable and stubborn, pugs usually enjoy a lot of human attention, and can become anxious if they feel neglected.
Shih Tzu
An ancient breed, Shih Tzu have long, silky fur and weigh around 5-7kg. With a short, stunted muzzle and large, wide-set eyes, they're popular lap dogs due to their sweet, playful nature. This breed is known to be super trusting, but they're not afraid to stand up for themselves if required!
Lhasa Apso
Lhasa Apso are often mistaken for Shih Tzu as they share the same stunted snout, but they're usually a little larger and stockier. This breed is incredibly loyal and makes for great guard dogs as they can creep silently, which – combined with their loud, rich bark – often fools strangers into thinking a much larger dog is on the other end!
Maltese
Known for its long, silky white hair, the Maltese breed are the ultimate 'lap dog'. They love companionship and thrive on love and attention; they're comfortable in small spaces, so they're ideal for apartment dwellers. Maltese are very playful and tend to 'yap' when scared or excited, which could explain why they have the unenviable reputation of being the most-dumped dog breed.
Pomeranian
Named after the Pomerania region of Central Europe which, today makes up a cross-section of eastern Germany and northern Poland, this fluffy pooch is classed as a 'toy' breed due to its teeny tiny size. They're extremely playful, friendly, active and intelligent, and adore spending time with their owners. As a result, they can slip into the habit of barking excessively if they're left alone too long, as they can quickly become lonely and depressed.
Cavalier King Charles Spaniel
These floppy-eared spaniels boast beautiful, shiny coats and long, lustrous tails. Cavaliers are highly affectionate and sociable and, as a result, they mix very well with children and other dogs. They also adapt quickly to new environments, people and locations so perfect for those often on the move.
Chihuahua
Named after the state of Chihuahua in Mexico, this is officially the smallest breed of dog in the world! These tiny little canines typically weigh between 1.5 - 3kg, and their life expectancy is high with an average age of between 15 and 18 years. They have a reputation for being "yappy", but this is simply because Chihuahuas crave attention and affection. If they don't get enough of it, they'll soon let you know!
Miniature Schnauzer
A German breed that originated in the 1400s, Schnauzers come in three distinct sizes: giant, standard and miniature. The bushy-bearded miniatures generally weigh 5 - 7kg. They are not known to be aggressive at all and, as a result, make loving companions.
Dachsund
Informally known as the 'sausage dog', Dachshunds are characterised by their long body and short, stubby legs. They can have smooth, long or wiry hair and a long snout. Daschunds are very playful and they enjoy company: if they're left on their own for too long, they can be prone to separation anxiety and may begin nuisance barking.
West Highland Terrier
Weighing between 5 and 9kg, West Highland Terriers – fondly nicknamed 'Westies' – are stocky, low-shed dogs that boast a bright white coat. They're sociable and people-oriented, but Westies can also be very strong-willed and independent.
More on pets
Alternative pet suggestions for families with pet allergies
Why having a pet can be good for you
5 reasons kids should have a pet