Summer Parties
Summer is here and to celebrate you have invited friends round for dinner. How can you make an impression and entertain in style?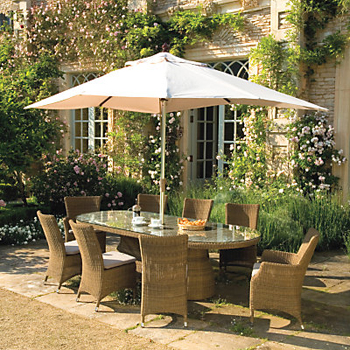 Eat Al Fresco
So far this year, there have been a surprisingly high number of sunny days here in the UK, so make the most of the balmy evenings and entertain your guests outside. John Lewis boasts an impressive array of outdoor furniture for the more discerning customer, and for those who are looking to replace old garden furniture with a more affordable option, Home base is a good place to start. Choose cushion seats and an umbrella that compliment your garden and ensure that you cover up your furniture when it's not in use to save it becoming weather worn.
Look after your lawn
Nothing screams sophistication like a well-kept lawn. Eating Al Fresco and looking out on a luscious green lawn makes a difference to your garden just like a new carpet changes the look of a room. Of course, you will have to be prepared to put the effort in before the summer but if you haven't had the time, a quick mow will give your grass a facelift. To keep your lawn looking green and gorgeous all year round, employing greenthumb to treat your lawn four times a year can give outstanding results.
Illuminate your garden
It's no fun if you have to retreat indoors when it goes dark. Lighting up your garden sets a relaxed atmosphere and can look stunning if done correctly. Try placing tea lights on your outdoor table and dotting solar lights around your garden. B and q offer a tantalising array of lighting options for your garden.
Turn up the heat
Once the sun has gone in, the air will be cooler and it will be less appealing to sit outside. To prevent your guests from wanting to retreat indoors, invest in a chimenia. The chimenia will fast become a focal point of your occasion and no man can resist the lure of an open fire. Many a party has been extended with their presence. They also present a cheaper and greener alternative to the patio heater.
Keep the bugs away
We've all woken up after a night spent in the garden with insect bites. Prevent your guests from being bitten by using a bamboo garden oil torch with citronella oil. Citronella has been used for keeping insects away for decades and as a bonus if your neighbours dogs are usually noisy, it also apparently also calms barking dogs!