A Penny Saved...
Many of us are unaware of the savings that can be made by putting a little effort into working out how and where we spend our hard earned money. If you are strapped for cash and need to cut some fat from your household expenditure, there are ways you can trim your budget without it adversely affecting your lifestyle.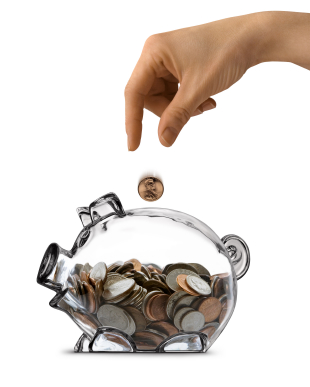 Analyse your outgoings
According to money saving expert Martin Lewis, "The average person in the UK could give themselves a 25% pay rise by stopping waste. This isn't 'cutting down on cappuccinos', it's by systematically working through your bills and products to ensure you have the best deal on everything."
Analyse your outgoings and take an honest look at what you spend. Book a day off work and go through each and every bill. You may be amazed at the money you could save.

Alter your thinking
Changing your thinking from "ooo, I'd love one of those" to "Do I really need that?" means that you question your purchases and are much less likely to spend money on products that you don't need.

Clear expensive debt
In the UK the average person owes approximately £2,200 on their credit cards. At an interest rate of 15-16% this could take several years to pay off assuming a monthly repayment of £100 a month. Shop around to see if you can transfer your debt to a 0% credit card, pay off more each month or transfer your debt to a low cost loan.

Review your mortgage
The chances are that your mortgage will be your most expensive monthly outgoing. Are you getting the best rate? If you can afford it, could you overpay on your mortgage, potentially saving yourself thousands of pounds a year?

Shop around
When buying goods or services, ask yourself if you think you could get the same or a similar product or service for a reduced price. For example, if you are shopping for groceries, look for the supermarket own brand as they are often much cheaper. You may not even notice the difference. (In the taste that is, your wallet will!)
Next: 5 more budget-conscious tips
More From SheKnows Explorer