Sell It!
You might think that spring is the best time to hold a yard sale but the truth is that if you have things cluttering up your home that you have no need for anymore, any time is a good time for a yard sale. Unfortunately, many yard sales aren't successful simply because people don't realise how to have the best yard sale.Take these tips for having a successful yard sale and watch your junk become someone else's treasure!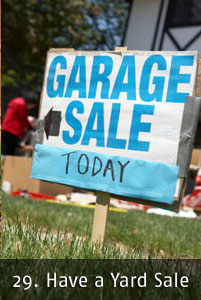 Creating the ad
Serious shoppers typically look through the ads of local newspapers and community publications before hitting the yard sales. Your ad is the first thing that serious yard sale shoppers will see so it makes sense to bring them in right from the start.
List your yard sale dates first and be sure to include the start and end times. If your yard sale will be held for more than one day, list each day and times separately. If you're concerned about bad weather during your yard sale, include a rain date with your ad.
Collectors search through ads in hopes of finding a treasure to add to their collection. List any antiques, collectibles and large items such as furniture and tools in your ad as well. The more people know about what you are selling the better chances of having a successful yard sale.

Setting up signs
Not everyone will plan ahead and search news ads to find your yard sale. About 50 percent of your shoppers will come off the street so it pays to have attractive signage. Your yard sale sign should be made of a durable material in order to stand up to the weather and the environment. Write the basic information; locations, dates and times and write large so it can be easily seen from a corner or car. Lastly, post your signs at major intersections or hubs near your home. The more eye traffic the signs can get the better.

Let's talk money
Since your goal is to get rid of as many things as possible in your yard sale, consider setting up a free or nearly free table. Discount these items for up to 90 percent than what you normally would seel them for.
Handling the money for your yard sale is possibly the most important part of having a successful yard sale. Be sure to have plenty of change and small bills on hand for shoppers; this reduces the likelihood of not being able to make change if a shopper hands you a large bill to purchase items. Instead of a cash box, keep the yard sale money on you in either an apron or fanny pack. This way you won't worry about where the money is when you need to walk away from your post.
Next: 2 Important yard sale tips
More From SheKnows Explorer