Keep Your Little Ghouls And Goblins Safe
Everyone wants their kids to have fun during Halloween and going door-to-door in a whimsical costume is one of the highlights of the season for many families. Keeping Halloween safe will ensure your children enjoy themselves and can build a treasury of happy memories. Here are a few simple safety tips to share with your kids before they get on with the serious business of trick-or-treating.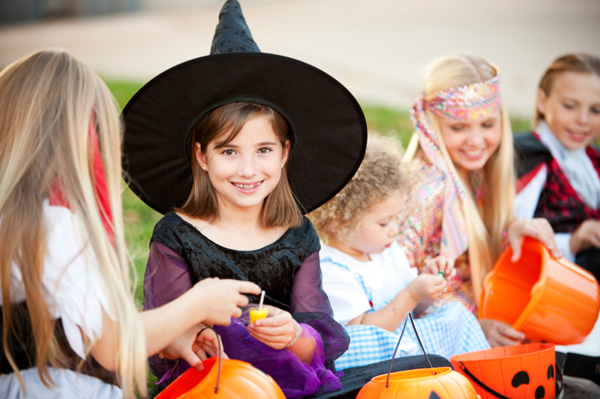 When you go out trick-or-treating, always make sure that your mum, dad or another adult who is caring for you is within sight. Everyone feels better when they can see a friendly face.
Never go into a stranger's house or even up to their door or car for treats, unless your parents have said it's OK. Always make sure your parents know where you are and go straight to them if you feel uncomfortable or afraid.
Be careful when you are crossing a road. In all the excitement, it's easy to forget to watch out for traffic so remember to look both ways before you leave the pavement and make sure there are no cars coming. And if the road you are on has a crossing, use it.
A completely black outfit may seem like a good choice for Halloween but it won't help drivers to spot you in the dark. Make sure you are wearing something bright, preferably with reflective strips or even glow bands to help you stand out from the crowd.
If you live within walking distance of friends or family, let them know you will be trick-or-treating this Halloween and ask if you can visit them for your sweetie fix. Not only are you guaranteed a treat or two, you can also be sure of a friendly welcome.
Sometimes masks can make it difficult to see where you are going. They can also make it harder for your parents to spot you if you are with a group of children in similar outfits. Instead of putting on a mask, try using face paints to complete your spooky trick-or-treating look.
Before you head out of your front door, make sure you are happy with the length of your costume. Any clothing that is too long could be a tripping hazard. If your costume reaches the floor, ask a parent to take it up a few inches for you. And make sure you are wearing comfortable shoes.
For older children and teenagers, stay in a group when you go out. Never put yourself in a situation where you will be alone. Always let your parents know where you are going, when you will be home and who you will be with. It may seem irritating but your parents will want to know you are safe.
More on Halloween
Cherry chocolate spider biscuits
Throw a Halloween party for adults
Costume ideas for babies