Pretty & Affordable
DIY Headboards
Shopping for the right headboard can be exhausting and expensive, but making your own can be free or a fraction of the cost. Whether you are looking to save money, have a one-of-a-kind headboard or just want to practice your DIY skills, we have seven simple headboard ideas to get you decorating!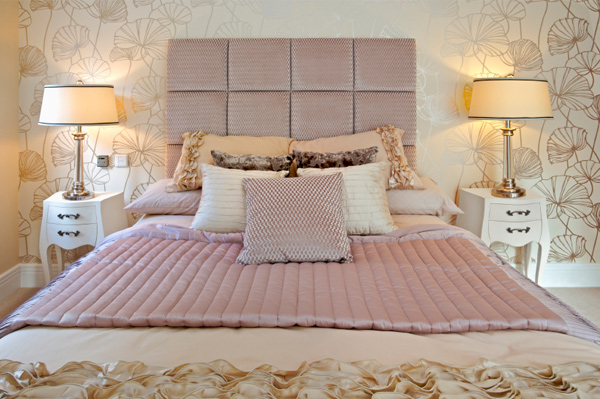 Antique mirrors
Not only are antique mirrors one of a kind, but you can usually find them for a steal at a yard sale or thrift shop. With so many styles, colours and frames to choose from, finding the perfect mirror will be your only obstacle. A fresh coat of paint can work wonders once you find the right frame!
Corrugated sheet metal
Corrugated sheet metal makes for an industrial and sleek headboard, perfect for a modern bedroom. The versatility of sheet metal is great because you can cut (or have someone else cut) the metal into a design that suits your room. This is such an interesting and unique alternative for someone decorating on a budget.
Old Fencing or a mantel
It may seem strange, but old fences and mantels make wonderful distressed headboards without the designer cost, so if you see any of your neighbours renovating or come across old fencing or an old mantel that is in a rubbish pile, make sure to scoop it up. These items make a fabulous rustic headboard and just think of what a conversation piece your headboard will be!
A soft fabric headboard
Fabric headboards are cheap and simple to construct. All you need to get started is a sheet of plywood the size you want for your headboard, batting, foam, a staple gun and fabric of your choice. To start, layer the foam on top of the plywood (both should measure the same), next add the batting. Then lay the fabric over the batting, pull the fabric taut and staple to the plywood and voilà. Lastly attach the frame to the wall.
A picture frame headboard
A picture frame headboard is simple and affordable. Start by buying eight or ten frames that are about 30 x 30 cm. in size (square frames work best). You can either buy new frames or secondhand frames, which can be a challenge to track down. Next, fill the frames with your favourite photos and hang about 3-5 cm apart in two horizontal rows of four frames for a total of eight (if you have a wider bed 10 frames should do the trick).
Curtain rods aren't just for windows!
There are two ways you can use curtain rods as a headboard. The first way is to use one curtain rod and install it 60-90 cm on the wall above your mattress and hang a decorative or antique quilt over the rod -- perfect for displaying family heirlooms. The second way is to install three curtain rods from the ceiling that mimic the edge of the mattress and have curtains or fabric surround your bed, similar to a canopy bed.
Recycled old doors, window frames and shutters
Old doors turned sideways, antique window frames and shutters all make for unique headboards. Most of these items can be found or bought for close to nothing and the only work required is maybe adding a fresh coat of paint and installing them. If you find an old door, simply turn it sideways. For shutters and window frames, you will likely have to buy multiple depending on their size, but you can line them up closely and attach them directly to the wall for a vintage and unique headboard.
More home decor ideas
5 Funky wardrobes
Sweet dreams: 10 Luxurious beds
Create a pretty guest room in 5 Steps
More From SheKnows Explorer