How To Decorate
A Guest Room
Whether your in-laws are coming for a visit or your guest room has become overrun with dust, we have the solution for turning your guest room into a sweet escape. For a pretty and cosy guest room that will have your house guests begging to stay longer, follow these five simple steps.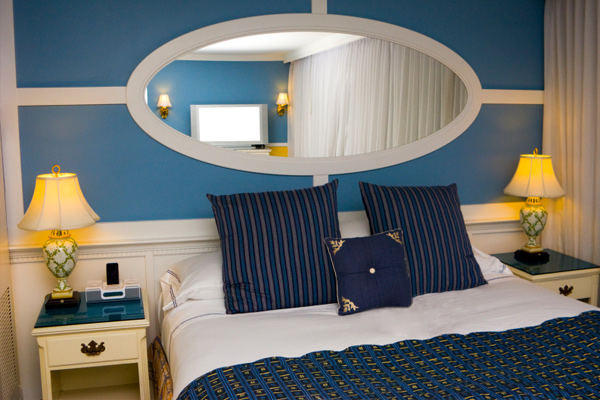 Step 1
De-clutter and empty the room of everything; this will help you decide on a theme and make it easier to paint. Some popular guest room themes are cosy cottage rooms, vintage rooms with antiques, classic and simple rooms with neutral colors or a modern rooms with pops of colour and nouveau furniture.
Once you have a theme in mind, you can decide on a colour palette. Pastels and lighter shades work best in cosy and vintage rooms because they enhance the warm atmosphere. Lighter shades of blue, purple, turquoise and moss are perfect for classic rooms with neutral and light coloured bedding. Bright colours, like tangerine, magenta, aqua and violet add colour to your modern room while keeping it on the pretty side.
Step 2
When it comes to bedding for your guest room, all I can say is splurge! There is nothing worse then freezing or sleeping on a lumpy and bumpy pillow or mattress. Not only will your guests appreciate a toasty comforter, but bedding is an easy way to add colour to your guest room and becaquse it isn't a permanent addition, you can have fun changing it around.
Step 3
A window seat, bench or comfy chair adds the right amount of seating to your guest room, and with the plethora of chairs out there to choose from, you are bound to find the perfect chair. Your guests can also use the seating area to keep their belongings, and when they leave, it can be a comfy spot for you to curl up with a book and read.
Step 4
Invest in bedside lighting. There is nothing worse than banging your toe into furniture corners, so make sure that your guest room has appropriate bedside lighting so that you can keep your house guests from stumbling and falling in the night!
Step 5
For the final touches, add a few statement pieces, art, photos and flowers. A large framed mirror or vintage wardrobe are simple, elegant pieces that you can have forever and that add character to your guest room. Photos and art add colour, texture and personality, and if you are expecting company, fresh cut flowers make a nice surprise!
More home decor ideas
5 Funky wardrobes
Sweet dreams: 10 Luxurious beds
7 Simple headboard ideas
More From SheKnows Explorer