Fun Wardrobes
For Your Home
A funky and decorative wardrobe is a great way to to spice up your home. One of the benefits of a wardrobe is that you can hide whatever you want inside and have a work of art from the outside, so if you are looking for a beautiful space-saver, here are 5 of our favourite funky wardrobes!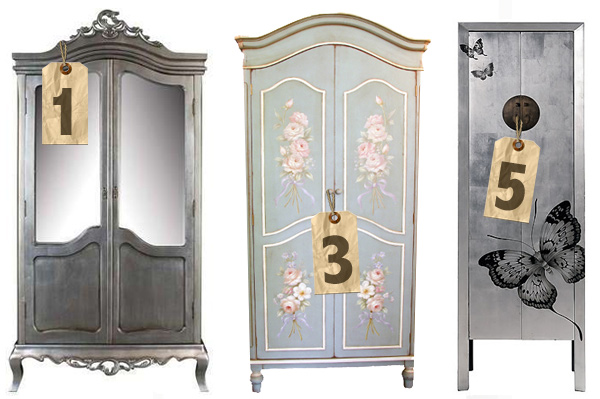 A Metallic Wardrobe
A fun metallic wardrobe adds a dash of modern even though the design itself is on the traditional side. The mirrors are a great touch, making this wardrobe multi-purpose and perfect for smaller flats. Available for £895.00.
Modern Black
Although this black wardrobe is very traditional in design, from the detailed feet to the carved finial, the bold colour makes this perfect for any modern home. This beautiful bevelled glass wardrobe is £1015.00.
French-Inspired
This French-inspired wardrobe adds colour to any room with the antiqued baby blue colour and floral design. For a cottage themed room, this wardrobe for £495 would be ideal.
Shabby Chic
This cream shabby chic wardrobe is light and neutral, making it a versatile wardrobe for almost any room. Available for £980, this carved wardrobe is a steal!
Madame Butterfly
This silver-leaf finish wardrobe with butterflies hand-painted on the outside is definitely a gem. With a secret butterfly painted on the inside and a stunning lilac colour, this wardrobe is sure to make a statement. Priced at £825.
More home decorating tips
Redecorate on a budget
How to arrange flowers
Easy decorations for outdoor parties
More From SheKnows Explorer