Clean And Sparkle With Homemade Solutions
Everything you need for a sparkling, clean home is right in your kitchen cupboard. Try these simple and natural alternatives to your usual cleaning products!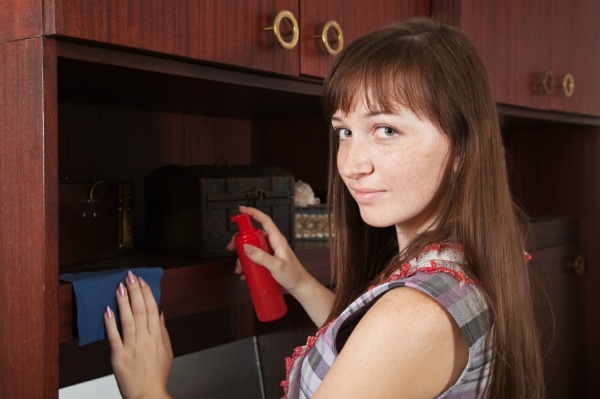 Furniture Polish
Unlike something such as kitchen or bathroom cleaner, polish might not be something you use every day, so you may forget to replace it. No need to worry now though, instead mix a ¼ cup of olive oil, white vinegar and lemon juice together. Shake for a few minutes to make sure the spray is properly mixed and then apply to a soft cloth and you will be ready to go!
Silver Polish
When you are having a dinner party or important event, sparkling silver wear always looks good as a finishing touch. But if you don't have any to hand, just brighten up your table using toothpaste. Just rub a little paste onto the silver wear and it will remove tarnish and restore the shine.
You can also use toothpaste to remove water stains from wooden coffee tables as well. If you dab some toothpaste on to the spot and allow it to dry you can wipe away the stain in no time.
Kitchen Cleaner
If you need to do a quick clean of the kitchen but are out of your usual product, no need to worry. Just mix a solution of half white vinegar and half water and put it into a spray bottle. The vinegar cuts into grease and will remove stains from your surfaces.
Vinegar is handy to clean the microwave too. Simply mix ¼ cup of white vinegar and 2 cups of water in a large bowl and microwave for three minutes on high. Leave the mixture for a further three minutes then remove the bowl and wipe down inside with a cloth. Any stains should be easy to remove.
Bathroom Cleaner
Vinegar can be used in the bathroom as well. Simply mix ¼ cup of vinegar and ¼ water into a spray bottle and disperse over the shower and sink. Let it sit for at least half an hour before wiping the surfaces down. The acetic acid in vinegar kills viruses, germs, bacteria and mould. It is a natural disinfectant and is tough enough to remove stains found in sinks, toilets and bathtubs.
Try these simple and natural solutions
Lemon juice is a natural disinfectant and bleaching agent, so it can be used for a variety of cleaning needs. You can sterilize wooden cutting boards, tackle stains and even use the juice to dissolve soap scum, hard water deposits, mould and mildew.
White vinegar is another handy product . As well as cleaning around the house, it can be used as a hypoallergenic fabric softener. Just add ½ cup to every load during the rinse.
Baking soda can be used as a gentle scouring agent. To treat hardened stains like those found on cooker tops or refrigerator shelves, sprinkle the powder onto the stain directly and scrub with a damp sponge.
More about homemade cleaning products
Make your own eco-friendly cleaning products
Natural cleaning products
Cleaning with vinegar