Are New Babies Safe Around Family Pets?
Many soon-to-be mums worry that they won't be able to keep their pets after their new baby arrives. As long as you follow the few simple rules below there should be no reason at all why both pet and baby cannot live together in harmony.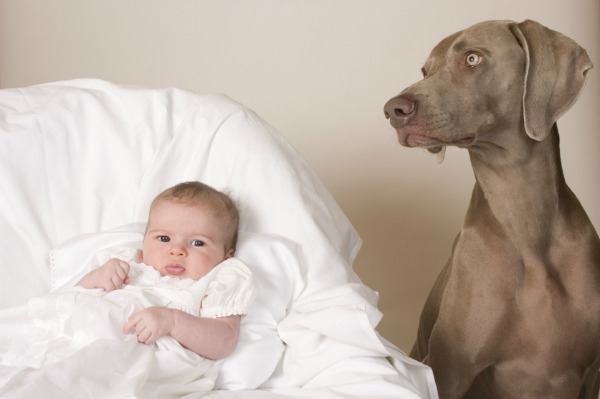 Check out your dog breed
If you have a dog make sure it is not described as a dangerous breed, as some of these have been known to attack small children. You can check this out by looking up the Dangerous Dog Act 1991. If your dog is on the list you will unfortunately need to hand it in to the local police station. Such dogs can kill, and it is for everyone's safety, along with that of other animals, that they are not in the public domain.
Do not ignore your animal when the baby arrives
All household pets should be introduced to the new addition and made to feel involved. Animals, especially dogs, can become jealous of a new baby, just as they would if a new dog was brought into the house.
Familiarise your pet with other babies
Before your bundle of joy arrives, invite friends or family members with young children to the house and, if they are comfortable, introduce your pet to them. This way, when your baby comes, they will know what to expect and won't react with surprise.
Introduce your baby slowly
Allow your pet to be around the new baby for a few hours every day but don't bombard them. It may be too much all at once and if your baby begins to cry, take them away from your pet. Your pet won't be used to the noise and most animals have extremely sensitive hearing – far better than a human's – and a crying baby will be too much for them!
Don't shut your pet away
Don't lock your pet away when the baby arrives. For an animal that probably had the run of the house before the baby arrived, it is just not fair and they won't understand what is happening. Remember that they haven't done anything wrong and it is their home too. They didn't ask for a new baby and need to feel involved.
Don't leave your baby unsupervised with a pet
Although most pets would not do anything to harm the baby on purpose, animals are unpredictable and don't understand what is harmful and what isn't. Even a playful swipe from a cat could be dangerous if a scratch got infected or was near a baby's eyes. From the other perspective, toddlers have no concept yet of how to treat animals and could harm your pet if left alone with them.
More on pets and children
Prepare your pet for the new baby
Pets: Introducing them to the new baby
Top 10 dog breeds for kids