Bathroom Magic
Is it time to give your bathroom a spring makeover? Fortunately, you don't have to rip out the old suite to give your bathroom a new look. With a few decorative touches you easily transform it to create a fresh, clean and stylish room.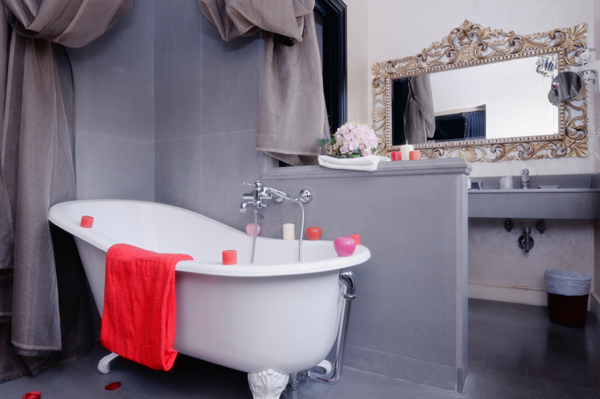 Towels
Towels can be a great way to add a decorative touch to your bathroom – they don't have to be just for use. Usually, towels will be the only softness in a bathroom so go for fluffy, luxurious ones to make the room feel more relaxing and comforting. Once you have decided on a colour scheme choose a completely new set of towels that complement the decor. If you have a light-coloured bathroom why not buy a darker set of towels, or vice-versa? Keep the style plain and classic for a contemporary look. Hide your old, non-matching towels – you can still use them but just don't leave them out for show.
Mirrors
A mirror can be a great centrepiece of a bathroom. It isn't just somewhere you do your make-up or style your hair. It can add depth to a room so the bigger it is the larger your room will appear. Why not add a new frame to your existing mirror or even invest in a new one? There are several modestly priced mirrors with a varied range of styles, from vintage and classic to modern finishes. If you can't afford a new mirror why not update your own. Strip varnish off the old frame and repaint for a clean look.
Plants
Adding a plant to your bathroom is a great way to bring life and a colourful touch to a room that can sometimes appear clinical. Gardenia jasminoides would make a suitable choice. This leafy plant has a beautiful, white bloom and thrives in a humid environment with or without direct sunlight. If you don't want the upkeep of a plant why not try fake ones? You can pick up small potted plants relatively cheaply.
Lighting
Lighting in a bathroom can be neglected. It is easy to buy a cheap and cheerful lightshade without really thinking about the effect it has on the room itself, but you will be surprised what a difference it can make. Changing a lampshade can add a decorative touch to the room and create a different light effect. The shape and texture can make a huge difference, so think about the mood you would like in your bathroom. If you want a softer light then consider installing a light dimmer switch. This will be perfect for creating a relaxing atmosphere if you fancy a long, hot soak in the bath.
Storage
The bathroom often becomes littered with toiletries, towels and even dirty clothes. Even if you try to keep these tidy the room can still look unsightly because of the product bottles on display. Why not invest in a narrow storage unit? You can hide all your toiletries in it and instead display your towels on the shelves. Baskets are great storage devices that can also be decorative. To tie in with the decor you could weave a ribbon around the top of a basket.
Accessories
To update your bathroom simply replace your accessories with new matching ones. After years of wear and tear non-matching bathroom bits and pieces can look drab and dated. Coordinated soap dispenser, toothbrush holder and other accessories will help make the room look cleaner and give it a great finished look. You can pick up some fabulous accessories quite cheaply from a hardware store.
More about bathroom decor
5 Guest bathroom decor ideas
Bathroom decorating ideas
5 Ways to budget bathroom decor