Outdoor Living
Your patio is an extension of your home during the sunny months and like your home, you want to be comfortable and enjoy the space. If you are not sure about where to start with decorating, don't worry, just follow these simple steps for your ultimate patio!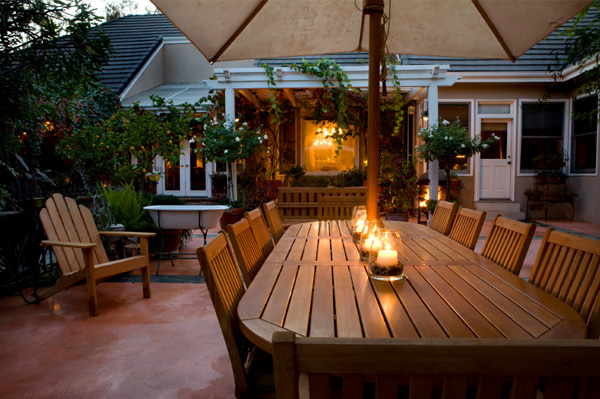 What do you want?
With spring arriving it is the perfect time to decide whether you would like to change your outdoor area. Is it too small? Too big? In the wrong place? Before you buy anything, look at your empty space and decide if it is right for you. You have enough time before Easter to make any changes necessary. You may want to add another level to your patio, creating an interesting space, or to erect a built-in barbecue or seating area.
Furniture
When picking garden furniture, be realistic about your aims, needs and the practical realities of your garden. If you have a large family, don't get a small fragile table for eating. At the same time, a heavy patio set can take up too much room if you have only a little space. Don't stick to traditional furniture either. Have a look around at some really great alternatives. What about a hammock, from Ikea, for £25?
Lights
Lighting in the garden is really important, especially when it gets dark. Decorative lighting is invaluble for setting the scene. Why not try garland lanterns, like this one, at £16.99, which you can hang in trees and over the patio itself? Fairy lights are also another useful way to have light with a decorative effect. Many garden lights are solar powered so you don't have to worry about electrical cables, which can be dangerous with young children around.
Soft furnishings
As your outside living room it is important that your patio is a comfortable place to sit. If you have hard wooden furniture, invest in some padding to cover it, ensuring the design is in keeping with your colour scheme. Or why not use bean bags and large scatter cushions for people to sit on? This will create an informal atmosphere and is perfect for children to play on. Outdoor cushions for your seats and throws to snuggle under when it gets cold are also excellent for a cosy space.
If you are worried about children falling on your patio tiles, simply put a large rug over the centre of your patio.
To create a shaded area of your patio you can buy a parasol or how about draping material from the wall of your house over the patio? Not only will it give you somewhere to relax out of the sun but it is a unique and attractive look for your garden. Try this canopy, from Ikea, for £25.
Fire pit
A popular addition to your garden is a fire pit or Chimenea. Having an open fire on your patio gives you the feeling of camping but with all the comforts of home. Not only will a fire pit provide a focal point for evening parties, but it will also gives heat and light once the sun has set. Many fire pits are also barbecues. After cooking your food, simply remove the grill and enjoy the open blaze. Try this fire pit, for £74.90.
Finishing touches
To add decorative touches, imagine your patio as you would your lounge. Potted plants are a perfect way to coordinate the garden with the patio area.
Invest in a proper outdoor crockery set rather than bringing stuff out of the kitchen. Your outdoor crockery and utensils will need to be more durable than those you use on a day-to-day basis, especially if you have children.
To create an atmosphere, consider clutters of large candles. They omit a soft and gentle light that puts everyone in a relaxed mood. You can now get candle holders and lights that you can hang from trees and hooks in your garden, giving another pretty touch to your patio.
More outdoor entertaining tips
10 Must-have summer party accessories
How to host the ultimate summer patio party
Backyard deco for small spaces
More From SheKnows Explorer