5 Reasons Kids
And Planes Don'T Mix
You can guarantee that you're happy and laid-back child will probably start to scream the minute the plane leaves the ground. As well as annoying other passengers, this can be upsetting and stressful for you. However, it isn't a case of your child being silly or wanting attention. There are several reasons a child will cry while flying, and here are the five most common causes.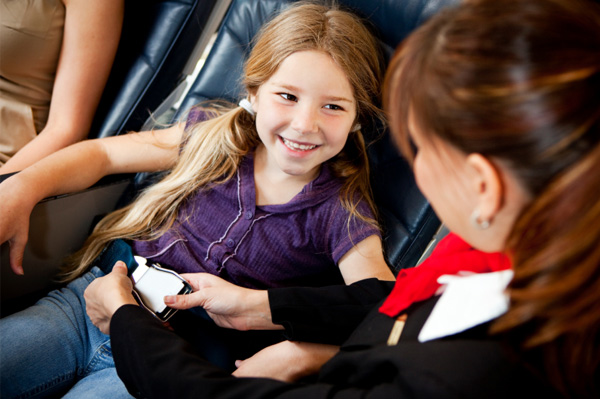 Painful ears
If you ever hear your baby screaming as the plane takes off or lands, chances are the poor child is experiencing very painful ears because of the change in air pressure. There are a huge number of products on the market nowadays which have been specially developed to deal with this kind of pain, such as ear plugs, and these can be bought from a local chemist or supermarket. Giving a child a drink, dummy or, if older, a lollypop to suck may also help relieve the symptoms.
Fear
Toddlers and older children who understand a bit more about what is going on may become upset because of the unknown factor of flying. If they are flying for the first time it can be very scary to look out of the window and see the plane lift off. It is a very odd sensation, which can scare many children. Along with the changes in air pressure, this can make flying a very stressful experience for them.
Seat restraints
Young children hate to be restrained at any time, but in an aeroplane where everything is new, they will be very frustrated if they can't go and explore their new surroundings. They may express this with crying or screaming, and they won't understand that the seat restraints are for their safety and the "seatbelt" signs need to be adhered to. Toddlers, especially, hate to be sitting in one place for long periods of time and may find it very difficult to sit still, especially if you are holding them tight and not allowing them to wander. The solution here is to take hold of your child and walk them up and down the aisle once you have been given the captain's all-clear to leave your seat. Let them stop and look at everything around them. You can do this a couple of times and it should satisfy their curiosity and give their little legs a workout.
Tiredness
The plane journey is only one piece of the jigsaw when you are going away on holiday. Early starts at the airport and waiting in queues also make up your trip, and these can be incredible tiring for your toddler. Sleep patterns are thrown out of line and meal times can sometimes be non-existent. This change of routine means that your child can be pretty fed up when they reach the plane, and babies and young children express this by crying. They may also be desperate for a sleep, because they are overtired. However, they cannot fall asleep, because of everything that is going on around them. The best way to overcome this is to read them a bedtime story when you reach the plane and explain to them that it is now time to go to sleep. Rock them in your arms if they are small enough and allow them to suck on something.
Allergies
Many young children suffer from allergies, which can result in a painful head cold. The stuffiness of the plane cabin and the stale air can also give these symptoms and will make a child feel rotten. The best thing to do in this situation is let your child chew, suck or swallow on something that may help clear their head. It will also take their mind off the feeling. Children's cough sweets are always a good idea.
More on kids and planes
Flying with kids: What you need to know
How to keep your kids entertained on a plane
Travelling abroad with babies