Pros And Cons Of A Family Dog
When you are considering getting a dog there is so much to think about. Cute fluffy puppies need vets and toilet training: There are pros and cons everywhere you turn. Add that to the pressure that kids who want a dog can put on and you can end up completely confused. Here are the important positives and negatives you will need to think about that could help make your mind up.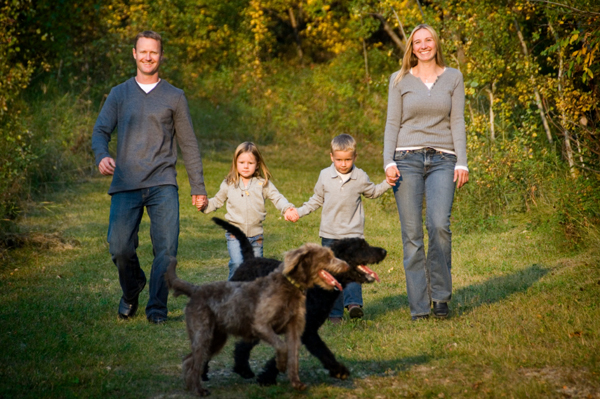 Pros of getting a dog
1
They make great companions and playmates
Most dogs are great with children and can make great companions for them. They are also very playful and will always enjoy a game of tug of war in the garden. Children enjoy having a furry friend around to play with them, especially an only child or one who doesn't have many other children nearby to spend time with.
2
Encourages your kids to exercise
Dogs need a lot of walking and play in the garden. Even small dogs need a decent amount of exercise every day and are a great way to encourage your child to take some, too. A walk or run can instantly become more attractive to a child if they have a fluffy companion to go with. The responsibility of walking a dog means that kids can't simply opt out of their daily walk: The dog needs exercise so they have to go.
3
Teaches children responsibility
A dog relies wholly on its owner to provide for it and give it the care and attention it requires. By giving your children the responsibility to fulfil this you are allowing them to learn valuable life lessons. They will learn how to take care of another living being and give it the love it needs. They will feel as though they have a very important place in the family and will feel valued and appreciated, not only by the dog but also by the rest of the family.
Cons of getting a dog
If you get a puppy you will inevitably have to carry out several types of training. From toilet training to obedience training, teaching your dog how to behave in the house can be hard work and you can bet the kids aren't going to be doing it. Many adult dogs still need a lot of training and, unless you are patient and willing to take time to do this, you need to rethink your plans.
Owning an animal, whether a dog, cat, rabbit or snake, can be a very expensive business. Vets are not cheap and a simple cold or watery eye can prove costly. Even with pet insurance (which is always strongly recommended), ensuring your dog is kept in good health can still add up to hundreds of pounds a year. If you don't have much money to spare, you will probably find the strain on your finances from having a dog pretty stressful.
Dogs, even shorthaired ones, can shed a huge amount, meaning that soon your new carpet might not look so pristine any more. Some dogs shed their coat pretty much constantly while others do so only once a year. However, when it does happen, often you can kiss goodbye to your spotless house. Odour can also be a problem, especially with bigger dogs, and although this can be minimised by using air fresheners and odour aids, sometimes the smell can still be overpowering.
More on family pets
Why having a pet can be good for you
5 Reasons kids should have a pet
Is a pet a good idea with a new baby in the house?
More From SheKnows Explorer