The Positives Of A Crate
Crate training is when a crate or cage is used to housebreak and train dogs to behave. Some people think it is cruel and conjure up images of a dog left whining and barking in a cage for hours on end. Crate training done correctly however can be the best solution for everyone concerned and actually give the dog somewhere to retreat and feel safe. Here are five great reasons you should consider this method.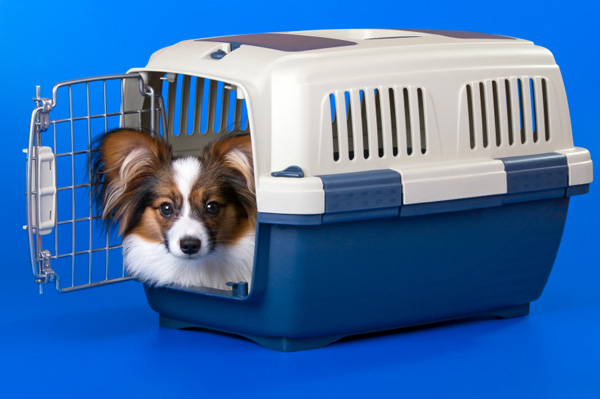 Helps your dog feel safe and secure
Dogs are hardwired to have a den or a place where they can retreat and feel safe and secure. A crate is a great way to offer that and means they will always have a place which is "theirs." If you have children, it should be made clear that they don't go to the cage and bother your dog while he is in there. It is his time alone and somewhere he can go to escape the bedlam. You will find that once you have shown the crate to your dog he may decide to set up home there on his own with no further guidance from you.
Stops destructive behaviour
Some dogs just love to chew and bite anything they can get their hands on, including your precious shoes, furniture and books. By putting them in a crate when you can't watch them, they cannot get their hands on anything you want to keep intact. They will have their own toys in their cage and will always have plenty to keep them occupied, but will be stopped from attacking anything they shouldn't.
Helps you housebreak your dog
When you get your puppy home it is very likely they won't be toilet trained. Even adult dogs have accidents when in a new environment, so it will be your responsibility to teach them that going to the loo inside is not acceptable. This can be quite a tricky and long drawn out process without a crate, as it is very hard to keep an eye on them all the time. By crate training them you can keep them confined to their crate when you are not around. Plus dogs will usually not go where they spend a lot of time or sleep, so will learn to "hold it" for the duration they are in their crate. For this to work however, the crate needs to be just big enough for them to stand up, turn around and sleep comfortably. Otherwise they will simply use one end to sleep and one end to go to the loo.
Makes car journeys easier and safer
There is nothing worse than an agitated dog which has to be on someone's knee in the car or who wanders around from seat to seat. Dogs need to be confined in a car or they can become very dangerous and divert the drivers attention away from the road. If your dog is used to his crate, you can simply put him in there and the crate either in the boot or on the back seat. The dog is then in a safe comfortable place and everyone in the car can concentrate on getting to their destination safely.
Keeps them safe at night
One of the best things you can do is to train your dog to sleep in a crate at night. Many dogs don't sleep right the way through the night and given the run of the house will wander and get up to no good. Being confined in a crate stops this and also keeps them safe from anything they could find while you are sound asleep, such as cleaning products and sharp objects.
More on pets
Pet obesity: How to keep your pet fighting fit
Mummy, can we have a dog?
Why having a pet can be good for you