Experience London 2012 on a budget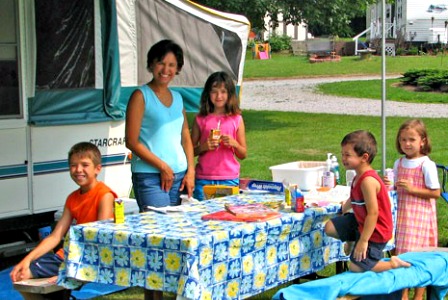 Going to London 2012 can be an expensive business, especially if you have kids. Here are five tips to help you reduce your spending while still having a great time at the Summer Games.
Around and about the Olympic village there will be an abundance of fast food outlets, cafes and restaurants ready to serve you with delicious-smelling food. The problem is these tend to be very pricey and can blow your weekly budget if you need to buy for the whole family. The best way to get round this is to take your own food. Sausage rolls, sandwiches, fruit and vegetable sticks are great options and very cost effective if you prepare it all yourself.
People will be travelling from all over the country and the world to watch the Olympics. This means that hotel prices in the capital have rocketed and it is very costly to stay for even one night. In steps a trusty tent and a well-priced campsite. You can still have the Olympic trip you planned with a far happier wallet. There are more than ten campsites in and around London catering specifically for the Olympics, including some with pre-erected tents if you don't have your own. They offer all the standard facilities and many also have extras like sports rooms, BBQs and nightly events to make your experience extra special.
3
Don't pay to watch the events
Although there are still tickets available for the Olympics, many of them are very expensive. There are several areas in London where you can position yourself to get a glimpse of an Olympic event. If you get there early, you'll get a great location but you will need to wait it out for the start. SheKnows has a handy guide to all the best locations from which to watch Olympic events in the capital for free.
You don't have to be in an Olympic venue to enjoy the games and with many big screens being erected all over the country, these are a great way to get in on the action. Whether you still go down to London or stay nearer home, there will be a screen in a location near you, with many places hosting themed events alongside to help everyone get into the spirit.
If you are are an official volunteer for the games or have a spectator ticket, you can get reduced rail fares from National Rail to London and other co-host cities. If this isn't the case, which let's face it, applies to most of us, there are several companies offering deals by coach. These come in the form of packages or simply the cost of travel to the venue and back. A travel agent will be able to advise you about the best deals. The golden rule, however, is not to take your car. Apart from petrol being very costly, parking when you get there will be near impossible or very, very expensive.
More on money management
Save money on groceries
5 Ways to save money when eating out
Trim your household expenses