Planning a ski vacation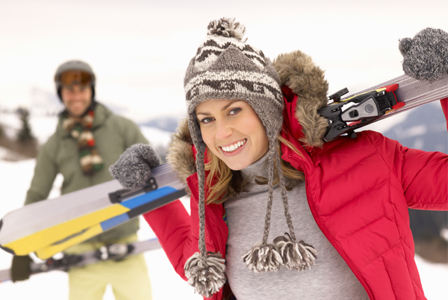 Verbier may be one of the favoured ski resorts in Europe but, let's face it, unless you're earning serious dough, the cost
of skiing in Switzerland renders a family winter holiday there nigh on impossible.
Get your skis on
There are ways to save money when skiing though, making a holiday on the slopes more affordable than you might think.
Pay for specific runs
A lot of resorts will charge you for a ski pass that gives you access to multiple runs but there's no point handing over cash for ski access you won't use. Most people stick to certain routes, especially children who may only be comfortable on a few of them, so, where possible, only buy passes for the runs you will actually go on. Flaine in France is a fantastic course for families because it is set up perfectly for intermediate skiers and children.
Buy your own skis
If you plan on doing this annually, you may as well invest in your own skis and boots. Ebay is a great place to start if you know what you're after and don't mind second-hand. Ski and boot hire can be a whopping additional cost and you might as well hand over an investment amount now rather than paying again and again each year. Airlines like easyJet allow you to check ski equipment in with your luggage at a relatively inexpensive cost too.
Avoid tough runs and trendy ski resorts
Tough runs that are competitive and popular amongst more hardcore skiers aren't great if you want to take your kids and they are notoriously more expensive. Likewise trendy resorts with good apres ski and a pumping nightlife tend to cost more for dining out, childcare and even supermarket shopping. Choose smaller resorts that are usually cheaper and more child-friendly. Bulgaria, Italy and Northern Spain are just a few of the countries that offer excellent, more reasonably-priced skiing.
Consider an all-inclusive
There are such things as all-inclusive ski holidays, though they tend to be less well known than those available in summer. Sno has some excellent packages available that wrap up accommodation, flights, lift passes and equipment in one, with a selection of holidays available in Andorra, Austria, France, Italy, Bulgaria and Switzerland.
Keep an eye on exchange rates
America was extremely popular with skiers a few years back because the dollar was weak against the pound, making for cheaper than usual ski packages across the U.S.. Keep an eye on exchange rates: if the Canadian dollar or Japanese Yen fluctuate in your favour, look into booking a winter holiday to one of those destinations instead. You may be surprised at how much money you can save.
More budget-saving ideas
Keep your luggage fees to a minimum
Organising your wedding day on a budget
Throw an inexpensive dinner party