Best fall festivals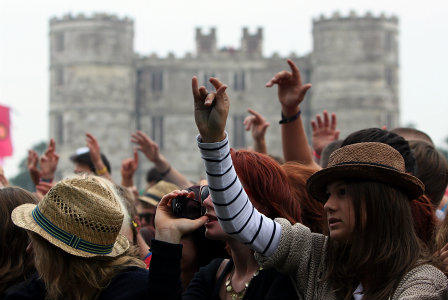 The recent Notting Hill Carnival may mark the end of summer but don't be blue: autumn has a festival line-up that is just as exciting. Here's a selection of those we think should not be missed.
Festival fever
Bestival
From Sept. 6-9 the leafy environs of Robin Hill Countryside Adventure Park on the Isle of Wight will be alive with the sound of music. Stevie Wonder, Florence and the Machine and De La Soul are just a few of the amazing acts lined up to perform and DJs appearing at the festival include Radio I's Annie Mac.
The Wild Copse is brand new to Bestival this year and it's a premium self-contained campsite which has smarter loos and showers and a chill out area with a bar. Tickets cost £299 for adults or £150 for those aged 13 to 17. This incudes the cost of the site's designated car park and entry to the festival. General admission tickets to Bestival have already sold out.
Log on to bestival.net for more information.
Salisbury food and drink festival
Foodies would be nuts to miss this gastronomic fanfare from Sept 9-16. It starts with a Cream Tea Sunday and Farm Taste Trail and there's also an opportunity to go on a Food Foraging Walk with John Wright from the ever-popular River Cottage. Sept. 13 sees English sparkling wine and Champagne being pitched head-to-head in a great taste-off and the festival will wrap up with a series of family-friendly events on Sept. 16 in Salisbury's very own market place. The cost of attending varies depending on which workshops and events you wish to go to but there's no doubt, whether you embrace the entire week of festivities or just dip in and out on different days, this will inspire, entice and educate you on all things food and drink.
Log on to Salisburyfestival.co.uk for more information.
Swn
Fast becoming a popular highlight in the Welsh calendar, Swn brings together musicians and bands from across Wales to celebrate and party the weekend away in Cardiff. Scheduled to take place from Oct. 18-21, this year's line-up includes Hawk Eyes, Greta Isaac and Wales' very own Charlotte Church.
The name "Swn" means sound but is pronounced "soon" and the festival was established to celebrate all music coming in and out of Wales. The organising team arrange events and gigs all year round but Swn is the pinnacle of their efforts and well worth a visit if you're in Cardiff this October. Tickets across all 4 days are priced at £60 and separate one day tickets are also available.
Log on to Swnfest.com for more information.
Flavours of Herefordshire Festival
Held for the first time in and around Hereford Cathedral and the High Town area, this country food festival is scheduled to coincide with the annual harvest and celebrates all that Herefordshire has to offer as a county. Taking place on Oct. 27-28, it will be the seventh annual festival and will showcase farmers markets, food pavilions, live cookery demonstrations and talks. There is also children's entertainment and competitions to keep the whole family happy and Hereford itself has lots of restaurants, bars and shops. If you're not local, why not book into a B&B and make a weekend of it?
Log on to Visitherefordshire.co.uk for more information.
The Brighton and Hove Food and Drink festival
The seaside venues of Brighton and Hove host this festival twice every year in April and September. The upcoming week from Sept. 7-16 will be an autumnal offering from local farmers, producers, chefs and food-lovers. From wine galas to workshops, chef challenges to masterclasses, this food and drink festival is a culinary explosion that makes a trip to the south coast a must this month. There are both free and ticketed events so this is fun for everyone no matter what their budget. Be sure to check out the antique shops in Brighton's Lanes too if you've not been before.
Log on to brightonfoodfestival.com for more information.
Bestival image credit: WENN
More festival fun
A guide to Notting Hill Carnival
Reading Festival 2012
Reading and Leeds Festivals announce 2012 line up