Punch Out The Pregnancy Pounds
The pressure to get back into shape after having a baby is immense these days. Heidi Klum seems to shed baby fat as fast as she gives birth and is often seen strutting down the catwalk in nothing but lingerie weeks after delivery. Celebrities boast on magazine covers of how they are back in their pre-pregnancy clothes only days after labour and, of course, the pressure we put on ourselves is immense too. We are a nation of women who want it all. We want the glowing pregnancy but we want our bodies back quickly too. It is tough combining a work-out routine in between feedings but there are some great ways of helping your body get near to its original shape without putting yourself under massive pressure.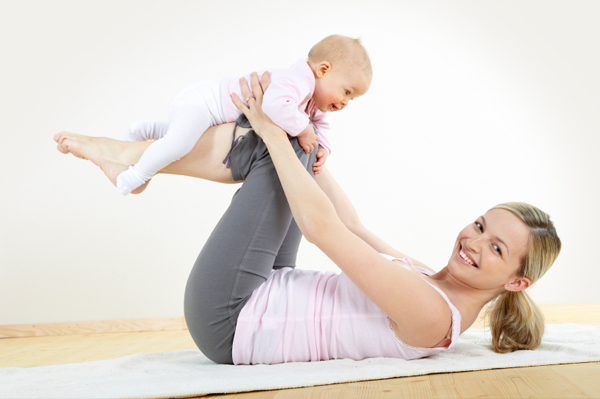 1. Be prepared
"There is a lot to be said for getting a good routine going before you give birth" says personal trainer Matt West. "Yoga, Pilates, any exercise that involves a lot of stretching can help make for an easier birth but it can also help your body bounce back quicker after having the baby." If you are pregnant and can get this into your routine, do it now. If you've already given birth, Yoga and Pilates are recommended for both body and mind. You'll firm your muscle tone quickly with stringent stretching exercises and you'll benefit mentally from the breathing exercises too so it's win-win all round.
2. Start drinking
Water that is. Caffeine might be tempting, what with all those middle of the night feeds and the lack of sleep you are suffering, but if you can replace as many fizzy sodas and cups of coffee with water as possible, you will automatically cut down your calorie intake and you will feel better almost immediately. Having not had coffee throughout the pregnancy, the hard part of weaning yourself off has already been done so, instead of leaping straight back on the caffeine cart, drink as much water as you can. You'll cut your calorie intake and find yourself eating smaller portions as result.
3. Breastfeed
Breastfeeding is a fantastic way of shedding calories and using up fat stores. It is known to burn up to 500 calories a day, before you've even lifted a finger so breast feed as long as you can. It's mutually beneficial to both you and your baby so there is no reason not to enjoy the experience, unless other problems dictate of course.
4. Hit the gym
Get back into a routine of exercise as soon as you can face it. You may find getting away is hard, but "even if you start with just 20 - 30 minutes of gentle exercise," says West, "you'll start seeing and feeling the results in no time." Swap babysitting duty with a friend so you can both get some mental and physical time away. No one is expecting you to run 5 miles your first day back but even a gentle stroll on the tread mill will help you burn off calories and it'll give you much-needed extra energy too. A good combination of cardio with strength training is recommended but avoid heavy lifting until you know your uterus is completely healed from your labour.
5. When possible, walk
The gym isn't for everyone and you may not feel up to a work out at first, but walking can kill off a surprising amount of calories and its something both you and your baby can enjoy together. Taking a stroll around the neighbourhood isn't especially strenuous or time-consuming so get it into your day-to-day routine as early as possible.
6. Stay calm
Remember that it took months for this weight to be gained. It isn't going to disappear over night. You will naturally lose a lot of weight just from giving birth and those extra pounds will go with time. Just don't lose heart, stay focused and try to enjoy the journey.
More ways to get in shape after baby
New mum + baby workout
This exercise video for post natal mothers and baby begins with a strength training workout and finishes with calming infant massage.
More on post-pregnancy health
4 Ways to combine playtime with a workout
Real mum confession: I hate my post-baby body
Making peace with your postpartum body
More From SheKnows Explorer