Finding The
Perfect [Nb]Doula
Whether you're expecting your first baby or your fifth, the prospect of pregnancy, birth and a screaming newborn can sometimes be extremely daunting. To take the stress out of pregnancy and new motherhood, many women are turning to doulas -- professional birth and postnatal supporters -- to provide extra special care. This is our guide to how you can find a doula in the UK.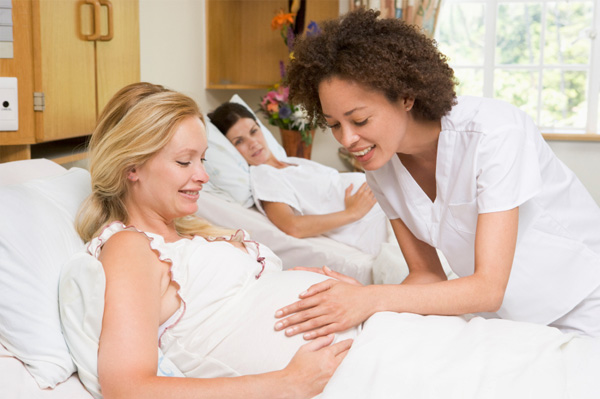 What doulas do
A doula [pronounced "doola"] is a woman who offers practical and emotional support to other women [and their partners] before, during and after childbirth. Doulas are not medical professionals, although many have previously worked as midwives, nurses or health visitors, and they may or may not have given birth themselves.
A doula will never attempt to diagnose or treat medical conditions and will not try to tell you what to do. Instead, a doula's role is to "mother the mother" by offering continuous and unconditional care and support. She will act only to give you accurate, evidence-based information and empower you in order for you to have as much say in your birth experience as possible.
After the birth, a postnatal doula can care for you and your family during the postnatal period. She can help you by doing light housework, caring for older children or carrying out any other household duties as required. This helps to ensure that you have plenty of time to recover from the birth and bond with your new arrival.
How to find a doula in the UK
The number of doulas who are now working in the UK has increased dramatically over the last few years. Membership of Doula UK -- a non-profit association run by and for doulas -- rose from 28 in 2003 to more than 450 in 2009.
One word of warning -- while the vast majority of doulas are highly regarded, there are no specific qualifications required in order to work as a doula. Always ask a potential doula about her past experience and training, and request references from previous clients before you decide to hire her.
The easiest way to find a reputable doula is to search for an organisation or agency which only accepts doulas who have undergone training or who have extensive experience onto its database. Doula UK, the Scottish Doula Network and Nurturing Birth are all good places to begin.
Doula UK also have a list of recommended questions to ask your doula-to-be.
How much does it cost
Birth doulas usually charge a flat rate of between £200 and £600, depending on their level of experience. This fee will typically includes at least two antenatal visits, attendance at your labour and birth, one or two postnatal visits and unlimited telephone and e-mail contact. They may also offer other services, such as reflexology, which are sometimes included at no extra charge.
Postnatal doulas charge between £10 and £14 per hour, and there is often a minimum amount of hours they are willing to work for each family.
However, if you are on a very low income or are on benefits, Doula UK has a hardship fund which can cover a doula's expenses and some doulas are willing to work for this alone.
More baby links
More From SheKnows Explorer