Easy Exercises For New Mums To Do With Baby
Many new mums want to get back into shape but don't know where to start when looking after a new baby. Fortunately, there are some easy ways to work out gently without worrying about childcare, because you can take your baby with you!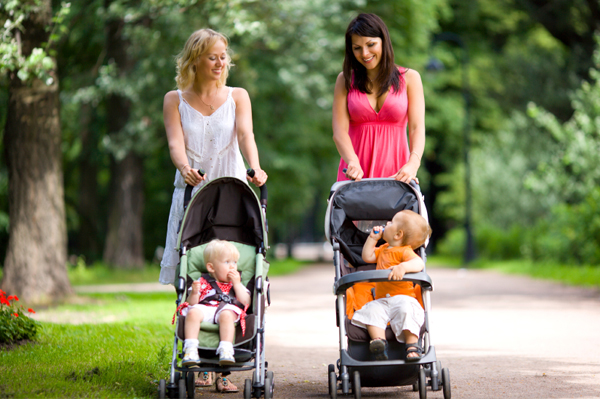 Brisk walking
There is a lot to be said for a good walk every day to burn off fat. Walking is a great cardio exercise, works all the major muscles and is perfect to do with your baby! It can also lower your blood pressure, lower bad cholesterol, lower your risk of diabetes and improve your mood. Try to aim for a brisk walk four times a week for 40 minutes – you will soon start to see the benefits.
Xbox 360 Kinect
Fitness consoles are all the rage now and the latest technology comes from the Kinect, which enables you to control everything with your movements. It comes with a sensor that watches your body and means all games are played without a console. The fitness games available are great for new mums as you can play them at home, while your baby watches or sleeps. There is no disruption to your routine and yet the Kinect will put you through your paces as a gym instructor does. You will have your pre-baby body back in no time!
Baby friendly gym classes
Some gyms offer classes tailored especially to new mums which not only target those problem areas but also include the babies in the exercises. The programmes incorporate lifting your baby and holding your baby in ways that work core muscle groups, and they are perfect for helping you get back into shape. They will also help you bond with your child, who will love it! Ask for more information at your local gym or simply do the exercises at home. To target your arms and back, hold your baby up and then lower them down while facing you.
Sex
OK, so this will probably be the last thing on your mind after you have had a baby and three months is the recommended time to wait after having your little one before you can start having fun between the sheets again. However, sex is a great workout and depending in the positions you embark on it can work all the major muscle groups including your abdominal ones – the muscles most affected by pregnancy. By having sex three times a week you can get back to your old figure as well as have lots of fun – and sex is also great, as it can be enjoyed at home while your baby is snoozing!
More on post-pregnancy workouts
4 Ways to work out with baby
Finding time for fitness after baby
4 Ways to sneak in exercise with your newborn
More From SheKnows Explorer