What Is Best For You And Your Child?
Choosing childcare can be difficult with so many options available. From playschool to a full-time nanny, it all depends on what is right for you and your child. So what are the options available to you if you live in the U.K.?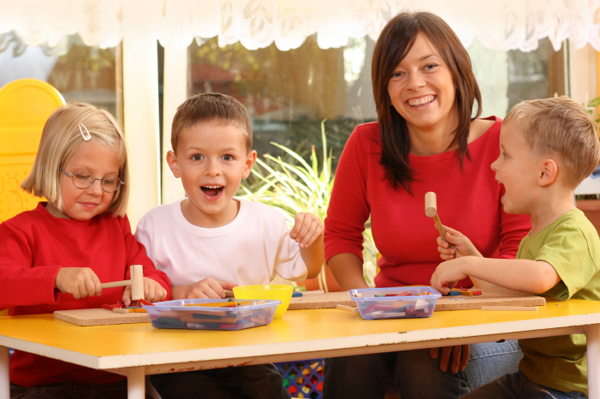 Early years education
Children aged three to four years old are all entitled to 15 hours of free education for 38 weeks of the year. This then stops when they go onto compulsory education at the age of five. Your local Family Information Service can point you in the right direction and help you find a place for your child. Early years education means children can start socialising with other kids and allows you to run errands and have some time to yourself.
Day nurseries
These are open Monday to Friday and offer a range of childcare options. They are very helpful if parents work as they are normally open from 7 a.m. to 7 p.m. every week day. Although available for fairly long hours you can put your child under their care for as little as an afternoon a week if that is all you need. Day nurseries are great environments to help children socialise and become accustomed to being away from mum and dad for a few hours. However, they are private and so you will incur a charge, normally from £30 to £50 a day.
Sure Start Children's Centres
These childcare facilities are open Monday to Friday and are included in the 15-hour allowance per week. Children can start aged three months and attend right through until they are ready to go to compulsory school. There is a cost outside of the 15-hour allowance but these centres can offer a huge range of childcare options from a few days a week to after-school from Monday to Friday. They are great if both parents work full time as you can enrol your child and know they are being well cared for while you are at work. Sure Start Children's Centres can also offer services not normally provided by day nurseries such as classes for parents, drop-in sessions and access to specialist services for families such as speech therapy, healthy eating advice and legal advice.
Preschools and playgroups
These groups are often run by volunteers and are sometimes attached to churches. Children can benefit from their 15 hours of free childcare here and normally only attend for two to three hours at a time. If paying for the childcare, costs can vary from around £5 to £10 per hour. Many of these services encourage the parents to stay with the children throughout their session, meaning it can be a good place for parents to meet other adults as well.
Childminders
Some families prefer one-on-one care and so childminders are the ideal choice. They usually come to the child's house and look after one or two children while the parents are out at work or busy. Parents can set a schedule for the childminder to follow and outings are sometimes part of the childminder's remit. Childminders usually work between 8 a.m. and 6 p.m. and charge between £7 to £10 per hour.
Nannies and home carers
If you like the idea of a childminder but need a more in-depth service then you may want to consider a nanny. Nannies can either live in the property with the children and care for the child full time, possibly taking on some household duties as well, or they can live away and come every day. Nannies are especially helpful if the family travels a lot as they can travel as well and take on all the childminding duties on the trip. Fees are completely discretional and can be discussed and agreed between the nanny and family before they start. Some nannies are employed by agencies, and in that case liaison would be between parents and the agency.
With so many options you must take time to decide on the childcare best suited to you and your child. Look at costings, the services they offer and which option you think would best suit your child's personality and your other commitments. Make sure you visit nurseries and talk to the staff in-depth about your requirements and what you expect from the facility. Give yourself a good few weeks to make a decision and then keep an eye on your child to make sure they are happy. Your local Family Information Service can talk you through all the options available and put you in touch with local childcare services and nurseries.
More on childcare
How to save on childcare
10 Tips for choosing childcare
Hiring a nanny: Top 5 steps to take
More From SheKnows Explorer