Kids Car Seats
– A Bit Confused?
There is a minefield of conflicting information out there when it comes to children's car seats. By law, children must use a seat based on their weight and size, but it is so easy to get bogged down with all the information out there that some parents have no idea if they are following the correct guidelines. To make things a little clearer here is a simple guide to car seats for children.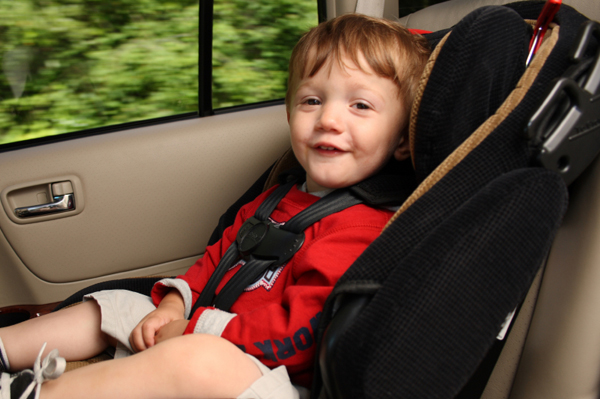 Until your child is 135 centimetres tall or aged 12 or older they need to sit in a booster seat while travelling in a car. Standard car seats are unsuitable for young children as they are not designed for children's bodies and seat belts will not sit right and protect them from any impacts. There are several types of car seats and they are divided into several categories based on the age and weight of a child.
Babies weighing up to 13 kilograms
Small children weighing up to 13 kilograms need a seat that is rear facing and is marked as Group 0 or Group 0+. However, a rear-facing seat must not be placed in a seat with a front airbag because the airbag can impact the seat in the event of a crash. Some airbags can be deactivated and your car handbook or local garage will be able to tell you how to do this.
Children weighing 9–18 kilograms
By this point your child will have outgrown their baby seat and now needs an upgrade to a Group 1 seat. These are forward or rear facing and normally have their own straps to hold in the child, and then the baby seat is secured to the car seatbelt. Again, do not place your child in a rear-facing seat near a front airbag. Forward-facing ones can be placed in the front, but only if they are well back from the airbag.
Children weighing 15–25 kilograms
Now your child can sit in a booster "Group II" seat, which doesn't have its own straps and makes use of the car's own seatbelt to hold the child in and keep the seat in place. The same rule about front airbags applies to booster seats, which should be kept well away from any front airbags.
Children weighing 22 kilograms or more
When children reach this weight they can ditch the seat and use a booster cushion only. These normally have no backs and simply raise your child up so they are the right height to use seat belts safely.
Tips when buying a car seat
Make sure the model you are interested in is European-approved. These seats have a label that shows a capital "E" in a circle.
Many child seats are designed so they cover several groups and can be altered to suit the weight your child is at the time. Ask about these models as they could save you money in the long run.
Never buy a secondhand car seat as it may not still be within the correct regulations or could be damaged.
Make sure you can try the seat in your car before you buy to make sure it is suitable and you are happy with how it works. Check that it includes instructions so you can fit it correctly.
More on child safely
Keeping kids safe around cars
Child safety locks: When should you disable?
Safety tips every parent should know
More From SheKnows Explorer