Keep Your Kids
Healthy With Diet
Kids eat far more junk food today than they ever have before and a bad diet has been credited with the rise of diseases such as ADHD, high cholesterol and the obesity epidemic. Here are five problem foods kids shouldn't be eating and great healthy alternatives.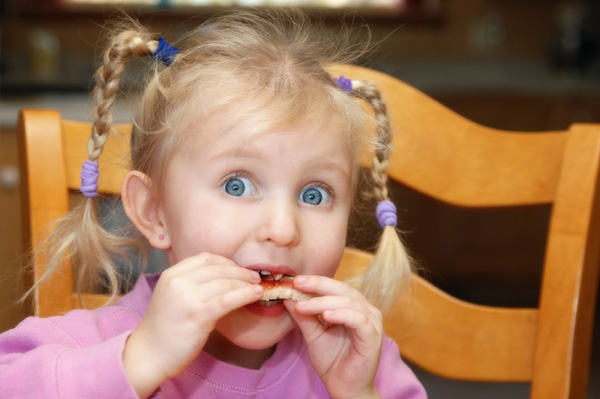 Sweets
It is no secret that sweets aren't good for our little ones, but today's children eat more candy than ever before. Many parents think there is no harm in kids eating a small amount of sugary sweets most days and many use them as bargaining tools or treats for behaving well. However, sweets have no nutritional value at all and are full of calories, adding extra pounds on in the long term. Sweets are also full of artificial chemicals and packed with sugar which can lead to tooth decay and various other health concerns. Fruits and berries are a great alternative to sweets and very nutritious.
Fruit juice
Many parents consider fruit juice a healthy addition to their kids diet because it includes the all important word "fruit." Unfortunately many fruit juices have very little real fruit in them at all, if any. Most juices if not otherwise stated on the packaging will be mainly made from chemicals, a huge amount of sugar and artificial flavours and sweeteners. Just like sweets, these juices can contribute to tooth decay and behavioural reactions due to certain unhealthy chemicals. Children would be better drinking plain water, eating whole fruit and passing on the fruit juices all together.
Fast food
It is now very obvious to most people that fast food is not just unhealthy, but can actually be harmful in the long run. However, this doesn't seem to deter many parents who continue to serve their kids burgers, hotdogs and chicken nuggets as "treats," sometimes as often as a few times a week. The problem with fast food is that it is loaded with chemicals to improve the taste and texture of what would otherwise be a pretty poor and unappetising meal. Additives such as corn syrup and MSG are present in nearly all fast food and many supermarket ready meals, making them extremely appealing to the taste buds. However, food loaded with calories and artificial ingredients takes its toll on the body eventually and can lead to heart disease, high cholesterol and a whole host of other debilitating conditions. Treat your children to a healthy homemade meal instead and teach them the benefits of wholesome, natural food. If you know you will be too busy to cook one day, plan ahead and make a batch of foods which you can freeze and then defrost at your convenience.
Crisps
Again, a convenience food (see a pattern emerging here?) which is made from nothing but starch, chemical preservatives and a huge amount of unhealthy trans fats. These trans fats are the ones which clog up the arteries and can contribute to heart disease and high cholesterol among other things. They have very little nutritional value and are also covered in salt which, as we all know, is also very bad for little ones, especially in the high quanities it is now present in food. Vegetable slices or sticks, raw or baked in the oven, are just as tasty as unhealthy crisps and taste great with dips such as guacamole or hummus.
Cakes, doughnuts and biscuits
These are some of the most favoured foods amongst kids, but they are doing nothing for their health. Most are made from nothing but artificial flavours, refined sugars and flour which put blood sugar levels through the roof and messes with all sorts of bodily functions, including hormones and metabolism.
More on kids nutrition
5 Great breakfast ideas for the kids
5 Reasons to eat dinner as a family
How to raise healthy vegetarian children