Smart Sun Safety
With the U.K. enjoying some very hot weather recently, many have been out enjoying the sun before it disappears again. However, the sun can be extremely damaging if you do not take the correct precautions against its rays and children are most at risk because of their young, delicate skin. So you can enjoy the fabulous weather knowing your kids are safe and protected from sunburn and skin cancer, here are eight precautions you should always take when they are out in the sun.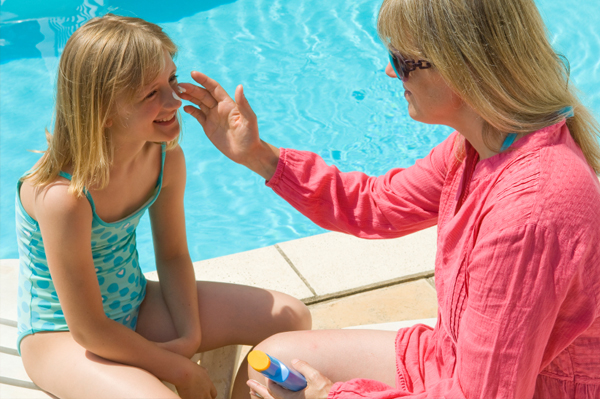 Keep young children in the shade
Children under three should be kept in the shade at all times, even if you have a full sun block on them. The suns rays are so strong on such young skin that irreversible damage can be done by them being in the sun for even a few minutes. Stay safe and keep them out all together.
Avoid the hottest part of the day
Children above the age of three should not be in the sun from 11 a.m. to 4 p.m. as this is when the sun is at its strongest. Instead, have early morning playtime in the pool or the beach until mid morning and then come inside for something to eat or a rest. Your kids will thank you for it when they are older.
Use a sun cream formulated for kids
Make sure you use sun cream which has been made especially for children. These contain a very high factor (normally 50 SPF or more) and will protect your kids far better than adult sun creams do.
When out, keep kids covered
Even though your kids are covered with a high factor sun cream, make sure they are protected with clothing as well. Have sun visors and hats to hand to put on your kids when they are in the sun to not only protect their eyes and faces, but also the delicate skin on their scalps.
Reapply sun cream frequently and after swimming
Even though many sun creams now have water resistant technology, re-apply to be extra safe as you never know how much cream is left on your kids when they have been in the sea or pool. Even if your kids aren't exposed to water, be sure to re-apply cream every two to three hours as it could have worn off in that time.
Don't let the clouds fool you
If it is cloudy, don't be fooled into thinking none of you need sun cream. Harmful UV rays still penetrate through the clouds and can cause irreversible sun damage even though it may be a fairly dull day.
Don't use perfumed products
Perfumed skincare products such as moisturisers and hand lotions can cause the skin to be more sun sensitive. Make sure your kids wear nothing perfumed and only apply moisturiser and skin products at night.
Don't forget about drinking
When the family is having a great time in the hot weather, it can be easy to forget to keep hydrated. Kids need to drink water every hour or so and will need to be reminded. Fizzy drinks aren't ideal, but sugar free fruit juices are suitable if your child doesn't like water on its own.
More on kids safety
Why your child should carry a mobile phone
Child-proof your home
Child booster seats
More From SheKnows Explorer