The Best Of
Both Worlds
It can be very difficult for new mums to know what to do when they have a baby. You are torn between staying at home and forfeiting your job or continuing to work but having to leave your child. However, there are ways you can earn money as a stay-at-home mum which, if you get it right, will give you the perfect work-life balance.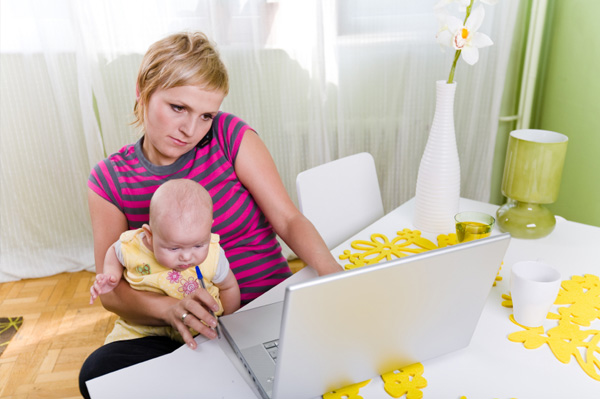 Have a clear out
Most of us have got a huge amount of belongings lying round the house or stored in the loft or garage which we simply don't need. Unused birthday and Christmas presents hang around taking up space and most women have wardrobes full of clothes, some with the tags still on. An easy way to generate some extra cash is to sell all your unwanted items on an online auction site such as eBay. The goods can be used or unused and don't have to be in perfect condition — just make sure you state everything truthfully on the listing. These sites are the modern version of a car boot sale and will take a percentage of the sold price as their fee. However you can still make a decent amount and anything is better than unused goods sitting around the house. Having a clear out and a sale, perhaps twice a year, will give you a nice lump sum and keep the house tidy.
Freelance writing
If you are half-decent at putting a pen to paper (or these days, a finger to computer keyboard) you could try your hand at freelance writing. This marketplace isn't just for qualified or established authors and the Internet has opened up a world of possibilities for amateur writers. There are several sites which allow you to upload your work on any topic and will pay you a small amount for every hit your article earns. It may take a while, but if your chosen subject proves popular, it can be fairly lucrative. If you are feeling very confident, you could pitch article ideas to online magazines and blogs, who may be willing to pay you for your work. If you have the gift of words, you might as well put it to good use.
Become a secret shopper
Do you love shopping? Are you a stickler for good customer service? Do uninterested and rude sales assistants really get your goat? If so, becoming a secret shopper could be perfect for you. A simple Google search will bring up many companies which supply secret shoppers to a wide range of high street and online stores. It is an effective way for the powers that be to monitor the standard of their customer service and a great opportunity for you to make money by simply visiting a shop and filling out an online form. All you need to do is register and wait for your assignments.
Online questionnaires
There are also companies online which will pay you to answer questionnaires on a wide range of subjects. They are not the most interesting forms to fill in, but that is why the work is paid, and it's a great way to earn some extra cash. The questionnaires are normally focused on market research, so companies can get a consumer's point of view to help them improve their services and products. They can be on almost any subject, but you don't have to sign up to anything if you don't want to. Some companies do reward those who fill out questionnaires frequently so check what each one offers in the way of benefits and conditions to get the best deal.
Don't fall for the scams!
There are many scams out there promising you thousands of pounds for very little work in the comfort of your own home. As with most things which sound too good to be true these adverts usually are. Whether they pop up on the Internet, via email spamming or land on your doorstep, beware of any company which requires you to pay an upfront fee before you begin earning. Stick with firms you or someone you know has heard of and which have a good reputation behind them.
More on mums and careers
Working mums: 10 Tips for juggling family and career
Ease back into work after having a baby
Should you be a stay at home mum?