Shopping for kids' clothes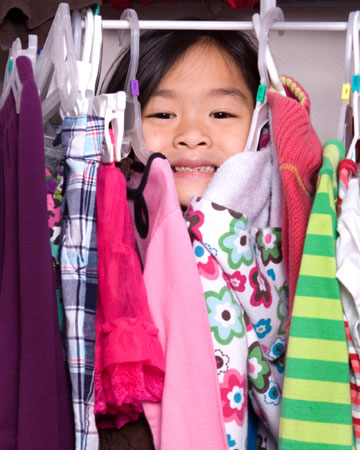 Junior fashion watch
Times might be tight but kids need clothes for autumn. What are the best labels on the U.K. high street for children's clothing, who has the best prices and what will your kids want to be wearing this year?
H&M
For newborn babies right through to 14 years of age, the boys' and girls' collections at H&M lead season after season for being both fashion-forward and fantastic value for money. Kick flare jeans and grandpa T-shirts rule for girls wanting a casual look, but for girly-girls there are patterned dresses aplenty. The boys' clothing is hardy and well manufactured so will last through days spent bombing about on bicycles and climbing trees. With prices as low as £1.99 for long-sleeved striped jersey tops, you aren't going to find better quality at such low prices.
Monsoon
Designed with little princesses in mind, Monsoon's bow-detailed skirts, fine knit cardigans and beautiful soft blouses are heaven for girls who tend towards a pretty look. Especially good for flower girl outfits and junior bridesmaid dresses, this is a one-stop shop for anyone wanting a party or wedding dress for a little one. It's not expensive for what it is and the designs are so divine, you'll want to keep the dress well beyond the point at which she still fits it.
Jigsaw Junior
Like the adult version, Jigsaw Junior is very distinctive. This season think sequined collar dresses, Provencal peasant tops and heart pointelle cardigans. Though designed with girls in mind, some of the chunky-knit sweaters and hoodies are just as fabulous for boys and the quality is such that it'll last wash after wash.
Marks & Spencer
As British as tea and scones, M&S still continues to produce exceptional quality clothing at affordable prices. Whether it's school uniform you're after or pyjamas, new shoes or weekend wear, the extensive collection for babies, toddlers, young children and even teens is marvellous. This summer the girls' range has some gorgeous dresses and the range of boys' suits for formal occasions is wonderful.
Gap Kids
Though the adult clothing at Gap has waned somewhat in recent years, the children's range has continued to shine. Soft cotton sweatshirts, cool denim jeans and dresses, fabulous hooded woollen dresses for winter: Gap Kids has never let us down. Their sizing is always spot on — if a baby's outfit is labelled as fitting from 6-9 months it tends to take children right through that stage, even though they are, of course, all different. The best time to check Gap out is during their sales as they often take as much as 70 per cent off. And one more thing. They make socks that actually stay on babies and toddlers, which as all mums know are hard to find.
more parenting tips
Choosing a babysitter
Should we correct our chidlren's mistakes?
Raising kids after divorce