Should kids have phones at school?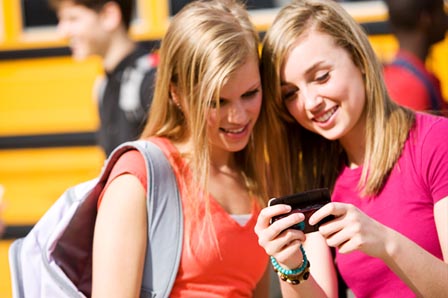 Mobile phones seem to be everywhere now and the devices, which were once a luxury for indulgent grown ups, are now in the hands of many kids and teenagers. However, are they really necessary at school?
Yes or no?
Mobile phones can be fantastic when it comes to the safety of your children and so many parents encourage their use but are they really needed when the kids are at school? Here are the pros and cons taking them in.
CONS
It could get stolen
Although you would hope this wouldn't happen, it is possible that your child's mobile phone could be stolen while they are at school. This would be very costly to you and a huge disappointment to your child. Placing their phone in a school locker during lessons could reduce this possibility but many children like to carry their phone around just in case they need it.
It could distract them
Mobile phones have come a long way from the screenless bricks they were twenty years ago and the latest smartphones can almost double as a computer. While this is great for those techno geeks among us, it does mean they offer far more of a distraction to kids than they used to. Nowadays, children cannot only text and make calls with their mobiles, they can also play games, surf the internet and listen to music. All these features could interfere with your child's concentration and ability to learn if they play with them in class.
It could interrupt lessons
Many children, even though they are asked to do so, forget to turn off their phones during lessons meaning they may start to beep, chime or play music. This not only frustrates and annoys other pupils but also prevents them from learning as well as they would without the distraction. If this happens with several phones during a class the problem multiplies.
It is easier to cheat
Besides the distraction problem, access to the internet can also be used to look up answers and mobile phones have a couple of other dynamic features – a calculator and the ability to save notes. The possibility of children having access to this information during important exams could be too tempting for pupils not to take advantage of.
PROS
They can get in touch when necessary
The main benefit of having a phone is that your child can get in touch with you whenever they need to. This allows you to feel they are safe and gives them assurance knowing they can call home if they have a problem.
They can ring the emergency services if the need arises
If your child is in immediate danger, they can use their phone to call not only you but the emergency services. This is of great benefit and could potentially save your child's life. Even if your child has no phone credit they can still get in touch with the police, fire or medical services as all emergency calls are free.
Allows you to keep track of their whereabouts
Children, especially teenagers, can be extraordinarily elusive and can disappear with their friends for hours without notifying anyone. In the summer many kids will go to the park after school or pop down to the shops at lunchtime. Letting them have a mobile phone will allow you to know where they are – provided their phone is on!
They can easily be discreet
Mobile phones can be very discreet if turned off or on to silent. As long as your child remembers to do this their phone won't cause a distraction in class, but they will stay have a way to contact you if they need to. Giving them a standard rather than a smartphone will also reduce the risk of distraction.
More on parenting
5 Common parenting mistakes
How to get your kids to respect you
Why your child should carry a mobile phone
More From SheKnows Explorer