Teaching kids about money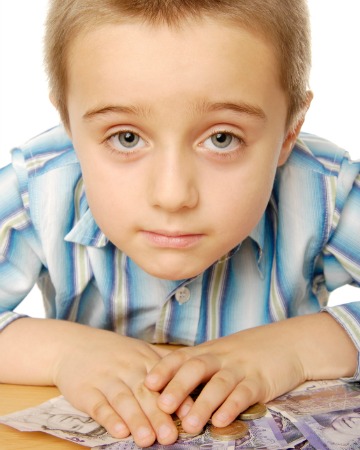 money doesn't grow on trees!
Kids aren't born with a sixth sense to be careful with money. They need to be taught to have a sensible, healthy attitude toward the pound and be aware that the bank of mum and dad won't be around forever.
Here are some helpful tips on how to teach your kids about finances.
Start them young
You may think your six year old is far too young to start learning about money, but you would be wrong. Starting to teach your kids about money as early as possible is the best way to ensure they are sensible in later life. If you drum into them how to budget and save, these values will already be instilled when they enter adulthood and can put your lessons into practice in the real world.
Give them control and responsibility
The ideal time to begin explaining the value of money is the minute you give them their first pocket pound. For a child this is a very big responsibility and shows them you are willing to allow them control of their own finances. However, they will not know instantly how to be sensible with what they've got and it is your job to teach them how to make their money work for them. They will respect you for giving them the opportunity to prove themselves and will hopefully take on board everything you say.
Allow them to make mistakes
"Allow your children to make bad decisions"
One of the best ways to learn lessons in life is to make mistakes. Where money is concerned it is far better to do this when you are younger and only small amounts are involved than when you are an adult with responsibilities such as kids and a mortgage riding on your decisions. Allow your children to make bad decisions without stopping them and then explain to them why it was a bad idea. Or even better, ask them if they know what they did wrong and how they can correct it.
Explain that money has to be earned
One thing many children don't grasp is that money won't always come from mum and dad. They need to learn that they have to stand on their own two feet. Children need to understand the importance of earning their own money and being self sufficient so they can afford stability and security when they are older. This leads on to the importance of a good career and gaining the necessary qualifications to achieve it. Once children are aware that they are responsible for their own financial future many will become far more interested in being sensible with money.
Teach them about saving
Saving money is one of the most important aspects of teaching your kids about finances. Explaining to your children that it is better to save up for a treat, rather than to get into debt, is key. Saving is probably the single most important aspect of financial security and having a cushion if needed can save people from all kinds of financial trouble. As boring as they may find it, your kids need to know that spending money which is not actually available is the number one reason people have financial problems.
Explain the cons of getting into debt
This is similar to teaching your kids about saving but focuses more on the type of credit available, why it is so tempting and what can happen if your kids give in. Credit cards, loans and buying items on credit can sound very tempting but can lead to financial ruin if abused. Teenagers often fall prey to deals such as these when they reach the age where obtaining credit is an option. In their eyes it is essentially free money allowing them to spend like they never have before, but what many don't realise is that they will be expected to pay it back with a hefty amount of interest.
Set a good example
The best way to teach your kids the financial lessons of life is to set a good example. If you manage your finances well, save and don't get into debt, your kids will learn by example and hopefully follow on from you. However, if you do make a mistake, it is a great way to show them how not to do it, explain to them the problems caused by your decisions and show them first hand why not being sensible with money can have a huge effect on your life.
more on money management
5 Reasons kids should get pocket money
Make money while being a stay at home mum
Saving for your child's university education