Take an active interest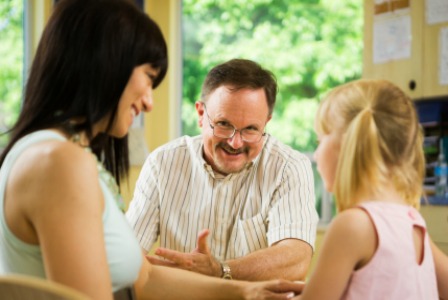 In many households one parent leaves schooling, homework and parents' evenings to the other — usually Mum — but it is important that both parents are equally involved in their child's education.
Staying in the loop
Here are five reasons both parents should take an active interest and why.
Speak to the teacher regularly
If you feel that you need to speak to your child's teacher about something, don't wait until an official meeting — ring the school or drop by at the end of the day to have a chat. As long as you organise it beforehand, your child's teachers will be quite happy to discuss any concerns or queries you have and can put your mind at rest or offer you some advice.
Make sure both parents attend meetings
With life being so hectic these days, sometimes it is easier if only one parent attends meetings. This is not always a good idea as it keeps the absent parent isolated from what is going on. If possible, both parents should attend all meetings, even if you are separated. This way you are both kept in the loop and will be able to discuss your child's education knowing exactly what the situation is.
Attend all school events
It is easier said than done but do try and attend as many school events as you can. This includes school plays, assemblies, sports days and presentations. Not only does it encourage your child to do well but it also allows you to meet other parents, chat to teachers and generally be involved in the school's activities. It is a chance to see how your child interacts with other pupils and is a rare opportunity to watch their progress compared to other children in their age group.
Be involved in homework
Looking at your child's homework and the tasks they are set while away from school is a great insight into what stage and level of learning they are at. It also allows you to keep a check on how they are doing, the subjects they struggle or excel in and the marks they are receiving from their teachers. It will boost your child's confidence to know that you are there if they need you and are keen to be involved.
Make sure you are on the mailing list
Many schools now send out emails rather than letters to let you know about news and upcoming events. It is important the school has you on its mailing list and has the correct address. If you require all communication in paper form, tell the school this and always ask your kids if they have anything for you at the end of the day; otherwise they may forget and not pass on important information. Emailing is better because the message will come straight to you without the risk of getting lost in transit.
More on kids and education
Are private schools worth the money?
Is your child struggling at school?
Home education: The pros and cons