Communicating with your baby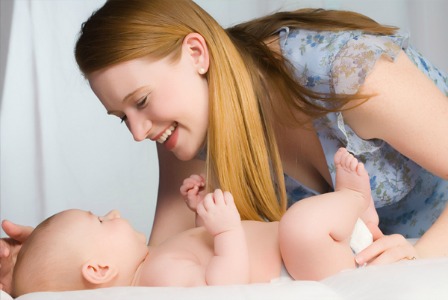 When baby arrives it may seem that all they do is cry, between bouts of sleeping, filling their nappies and the odd little hint of a smile. Even then, you're told it's just colic or 'trapped wind' that makes the corners of their little mouths turn up.
And can you
answer back?
You're sure they're trying to tell you something but unless they are a miracle of nature — and granted all babies are little miracles — they simply can't explain to you in words what they need. It can be so frustrating for you both but there are ways to work out what they mean.
Not just crying but also communicating
If your baby's cry is high-pitched and constant this is usually a distress signal — they want something and they want it now. This may not just be that it's time for their feed. If they are tired they may also rub their eyes and put their fingers in their mouth for comfort. Usually you can learn to distinguish what different cries mean — hunger, needing a nappy change or to sleep — according to the pitch and urgency of their signals. Stay tuned to the nuance of their crying and this may also stop you feeling too tired and frustrated yourself, especially when you are not getting much sleep.
Get more tips on boosting communication skills >>
Body language
Love is the universal language. When your baby is tired and fractious they can get into an emotional state it is hard for them to get out of. Try to cuddle your baby as much as possible. Your soothing touches and loving murmurs will tell them everything is OK. Then go through the motions — do they need a nappy change? Is it time for them to feed? Are they hot? If it's the latter take off some of baby's clothes or covers from the cot and maybe give them a drink. If they arch their back and turn away from you perhaps it's time to settle them to sleep, as they may be overstimulated.
New mum? Learn to tackle other common concerns >>
Sign language
Some modern U.K. nurseries have developed a sign language so babies and toddlers can "speak" to them before they can talk. Staff watch to see the signs children make when they motion for food or for a drink. Do they make a sign as if holding a cup? Do they point to their mouths? By repeating these signals you can learn to communicate. You can also do this at home and it's never too early to start, particularly after your baby is 12 months old . Once you know what your baby wants then mirror their actions. This will help them to know you understand. If you also clearly say the words — for example, "drink of water?" as you perform the action of drinking from a cup or hold up their water-filled bottle — it will help with their language skills. This way you can stop your young children getting frustrated and also strengthen those precious lines of communication.
More on babies
Can you leave your baby to cry
How to survive if your baby has a high-needs personality